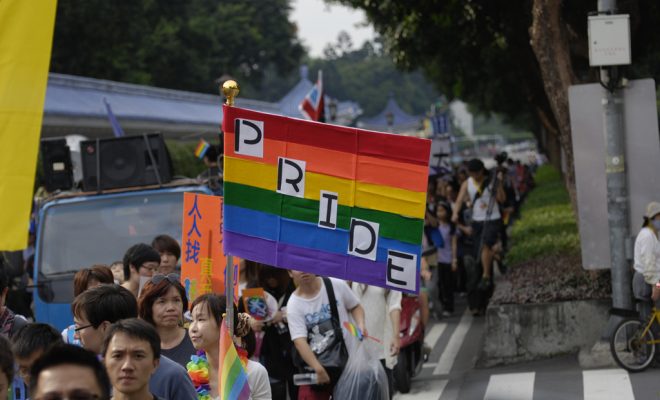 Image Courtesy of Shih-Shiuan Kao; License: (CC BY-SA 2.0)
World
Same-Sex Marriage in Taiwan Gets a Huge Boost from Supreme Court Ruling
By
|
Taiwan is one step closer to becoming the first country in Asia to legalize same-sex marriage: on Wednesday, Taiwan's highest court, the Council of Grand Justices, ruled it unconstitutional to bar same-sex couples from marriage. Taiwan's parliament has two years to pass legislation–either an amended form of the current bill or a new measure altogether–to legalize same-sex marriage.
If the parliament fails to pass legislation, "two persons of the same sex who intend to create the said permanent union shall be allowed to have their marriage registration effectuated… by submitting a written document signed by two or more witnesses," the 14-member court said.
Taiwan gay marriage supporters cry with joy after landmark Asian ruling pic.twitter.com/V2DhMFDyPq

— AFP news agency (@AFP) May 24, 2017
Taiwan has long been one of the more progressive spots in Asia: it has held a gay pride parade since 2003, and has a thriving LGBT community. But it wasn't until the Democratic Progressive Party took power last year that marriage equality became a real possibility. President Tsai Ing-wen has expressed support for equal marriage rights, though she has been more subtle in her support in recent months.
In 2015, at Taipei's gay pride parade, she said: "Every person should be able to look for love freely, and freely seek their own happiness."
Last November, DPP lawmakers drafted three bills that would have legalized same-sex marriage. Those bills have stalled in recent months, after protests against gay marriage swelled. Despite stiff resistance from the conservative and religious sectors of Taiwanese society, a slim majority of citizens support same-sex marriage. One poll from 2013 found that 53 percent of Taiwanese citizens favor marriage equality.
Well done Taiwan, we needed some good news 🏳️‍🌈 #loveislove pic.twitter.com/mPiDLt7Wgp

— meg is seeing h (@stylesrichonne) May 24, 2017
The court's ruling was in response to two cases: one request was filed by veteran gay rights activist, Chi Chia-wei, the other by Taipei city officials. Progressive lawmakers in Taiwan cheered the court's decision.
Yu Mei-nu, a DPP lawmaker, called it "a step forward in the history of Taiwan's same-sex marriage." She added: "I hope that the legislators will have the moral courage to pass same-sex marriage into law, however it is hard to predict how long it will take, at this moment…The opposition toward gay marriage in Taiwan won't just gladly accept it and give up the debate, so the debate will continue."