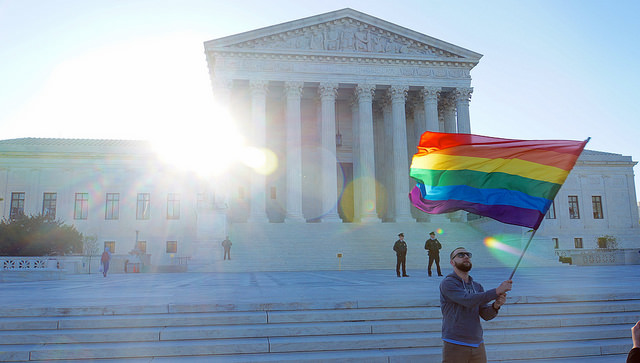 "Image" Courtesy of Ted Eytan: License (CC BY-SA 2.0)
Law
Lesbian Appeals to Mississippi Supreme Court for Child Custody
By
|
A lesbian filed an appeal in the Mississippi Supreme Court on June 1 to be recognized as the legal parent of a child she raised with her ex-wife.
After Chris Strickland and her ex-wife, Kimberly Day, divorced in 2016, a lower court recognized only Day as the legal parent of the couple's children.
Strickland sought joint custody of their younger child, but was told she did not have a legal option to seek joint custody of their older child. The judge did not grant Strickland joint custody, but did grant visitation with both boys.
Strickland and Day adopted their older son in 2007. Since same-sex couples could not yet get married or adopt children in Mississippi at the time, only Day legally adopted the child and was listed on his adoption papers. However, Strickland still considers him to be her child.
"Me personally, that's my child," Strickland told NBC. "A piece of paper doesn't mean anything to me."
Strickland and Day decided to get married in 2009 and traveled to Massachusetts, where same-sex marriage was legal, to tie the knot.
Two years after the couple married, Day got pregnant via in vitro fertalization and gave birth to their younger son. Again, same-sex marriage was not yet recognized in Mississippi, so only Day's name was  listed on their son's birth certificate.
Following the lower court's decision, Strickland appealed to the Mississippi Supreme Court for legal parentage of her younger child. Strickland is being represented by Lambda Legal and attorney Dianne Ellis. Day is being represented by attorney Prentiss Grant.
In a similar case in May, Judge Greg McMillan of the Knox County 4th Circuit Court recognized a Tennessee woman as the "husband" in a relationship during a same-sex couple's divorce proceedings. The couple, Sabrina and Erica Witt married in Washington, D.C., in 2014.
The couple had a child via artificial insemination with Sabrina carrying the child. Since same-sex marriage was not legal in Tennessee at the time, Erica was not included on the birth certificate. While McMillan initially ruled that only Sabrina was the legal parent, he eventually reversed that ruling. McMillan named Erica as the "father" of the child and granted both parents custody.
That ruling came days before the Tennessee legislature passed a bill requiring judges to give "natural meaning" to gendered words such as "mother" and "father." However, McMillan's decision remained standing.
When children are born from opposite-sex relationships, both parents are more often listed on the child's birth certificate and child custody disputes are less complicated–if only slightly so.
However, in cases which deal specifically with same-sex couples, those couples are especially affected by parental rights disputes arising from births and adoptions prior to marriage equality.
Depending on the decision by the Mississippi Supreme Court, a new precedent could be set for Mississippi and potentially lay the groundwork for future child custody cases nationwide.