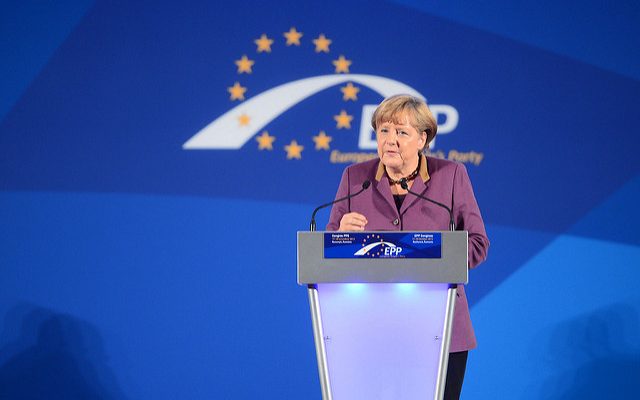 Image Courtesy of European People's Party; License: (CC BY 2.0)
World
Merkel Softens Stance On Same-Sex Marriage, Prompting Snap Vote
By
|
Ehe für alle (marriage for all) may soon become the law of the land in Germany after Chancellor Angela Merkel softened her stance on same-sex marriage during an interview on Monday. Merkel said the Parliament ought to carry out a "vote of conscience" on the issue. The body intends to do so on Friday.
Germany is one of the only Western European countries that has yet to legalize same-sex marriage. The country allowed same-sex couples to enter civil partnerships in 2001 and numerous legal battles since then have also won couples the right to inherit items and property. The bill, proposed by the left and green parties following Merkel's call for a free vote, would add to this list the rights to marry and adopt.
The bill is expected to pass easily on Friday, in part because many believe this law is long overdue. A YouGov poll estimates that two thirds of Germans would advocate for a law allowing LGBTQ individuals to wed and over half of Germans support adoption.
A political move, more than a historic one?
Amid the excitement surrounding the vote, many are speculating that Merkel's pivot emerged as a political play in her campaign for Germany's September election, in which she is running for a fourth term.
Merkel, a member of the center-right Christian Democratic Union, has long resisted demands for same-sex marriage to be passed. "For me, personally, marriage is a man and a woman living together," Merkel said. But, in recent months, she has faced pressure to follow in the footsteps of more progressive parties on this issue.
Her main opponent in the race, Martin Schulz, is the chosen candidate for the Social Democratic party. On Sunday, Schulz promised that same-sex marriage would be legalized in any government involving his party. Family "is not only father, mother, child," Schultz told supporters. Family is "there wherever people take responsibility for each other."
We will push through marriage equality in Germany. This week.

— Martin Schulz (@MartinSchulz) June 27, 2017
Two other parties, the Free Democratic Party and the Green Party have said they would not form a coalition with Merkel's Christian Democratic Union (CDU) if same-sex marriage was not on the agenda.
Merkel's call for the vote may have broadened her pool of potential voters, however she risks alienating the CDU's sister party: the Bavarian conservative Christian Social Union (CSU).
"Germany has more paramount issues to address," said CSU legislator Peter Ramsauer.
Despite the political motivations behind this decision, many Germans, Europeans, and LGBTQ advocates have expressed their delight that Germany will likely soon join the ranks of countries where same-sex couples can legally marry and establish families–and just in time for the end of Pride month.
For my English speaking followers: German parliament will vote on gay marriage tomorrow – on the 48th anniversary of Stonewall. #Ehefueralle

— Stina ⛱ (@Stinalotte) June 28, 2017
Now only 48% of EU citizens live with marriage equality. From Friday it will be 64%.
🇪🇺🇧🇪🇩🇰🇫🇮🇫🇷🇮🇪🇱🇺🇳🇱🇵🇹🇪🇸🇸🇪🇬🇧🇪🇺
🇪🇺🇩🇪🌈 #Ehefueralle

— Filipe Henriques (@FHenriques) June 28, 2017