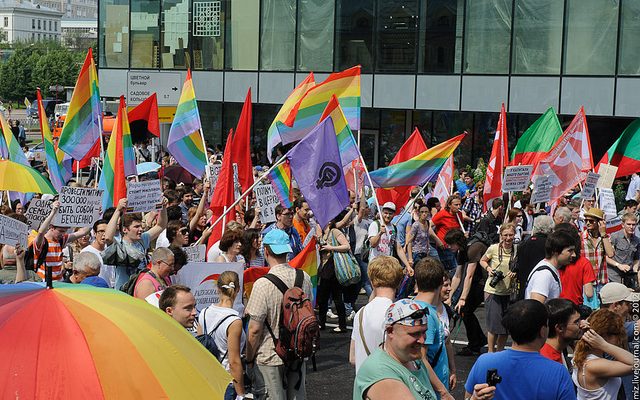 "LGBT" Courtesy of Evgeniy Isaev License: (CC BY 2.0)
World
European Court Rules Russia's "Gay Propaganda" Ban Violates International Law
By
|
Russia's ban on "gay propaganda" violates international law, Europe's top human rights court ruled on Tuesday. The European Court of Human Rights (ECHR) held that the ban was discriminatory and violated freedom of expression.
"Above all, by adopting such laws the Court found that the authorities had reinforced stigma and prejudice and encouraged homophobia, which was incompatible with the values — of equality, pluralism and tolerance — of a democratic society," the ECHR wrote.
Life in Russia has long been unwelcoming–and at times, perilous–for LGBTQ people. According to Russian news outlet Novaya Gazeta, more than 100 gay men in Chechnya, a Russian territory in Eastern Europe, have been detained in Chechan prisons. Some have been tortured and killed due to their sexual orientations. In an interview with VICE News, Ayub Kataev, a Chechan prison warden and head of the ministry of internal affairs, not only denied the reports of the imprisonment and abuse of gay men, but denied the existence of gay people altogether.
"My officers would not even want to touch such people, if they exist, let alone beating or torturing them," Kataev told VICE News.
Since 2003, regional governments in Russia have passed variations of the "gay propaganda" ban, and in 2013, the ban was adopted nationwide. Three Russian LGBTQ rights activists, Nikolay Bayev, Aleksey Kiselev, and Nikolay Alekseyev, protested the ban between 2009 and 2012 at a school in Ryazan, a children's library in Arkhangelsk, and an administrative building in St. Petersburg–some of the cities that had instituted a ban at the time. The activists were found guilty of administrative offenses and fined. After the activists unsuccessfully appealed the convictions to Russia's Constitutional Court, the ECHR agreed to hear their case.
According to the ECHR, Russia's Code of Administrative Offences was amended in 2013 with the ban that prohibited "the promoting of non-traditional sexual relationships among minors, … creating a distorted image of the social equivalence of traditional and non-traditional sexual relationships."
The ECHR held that the Russian government had failed to demonstrate how LGBT expression would negatively impact so-called "traditional families," and minors, who the government claimed needed to be protected from non-heterosexual orientations. To the contrary, the ECHR asserted that the ban "embodied a predisposed bias on the part of a heterosexual majority against a homosexual minority."
The decision was handed down by a seven judge chamber comprised of judges from seven different European countries. The chamber's judge from Russia, Dmitry Dedov, was the lone dissenter, claiming that "a positive image of homosexuality adversely affects the development of children and puts them at risk of sexual violence."
The ECHR ordered Russia to pay a total of 43,000 euros to the three activists who brought the lawsuit. However, whether that ruling will be followed has yet to be seen as Russia approved a law in 2015 allowing the country to ignore ECHR rulings if they conflict with the Russian constitution.