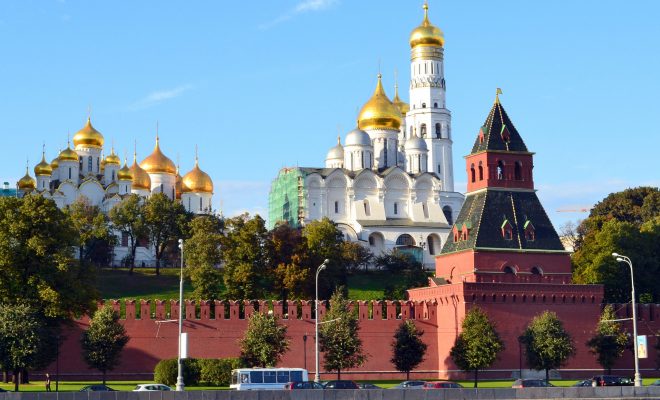 "Kremlin" courtesy of Larry Koester; license: (CC BY 2.0)
World
Russia Bans Jehovah's Witnesses, Labels Them Extremists
By
|
Russia's Supreme Court has banned the Jehovah's Witness organization after the Ministry of Justice labeled it an extremist group. The denomination already was on shaky ground in Russia, as the government had banned its literature and website as well as arrested members and seized their property. But now with a complete and nationwide ban, the group's headquarters in St. Petersburg and 395 local branches will all become state property.
Last year, the Russian general prosecutor issued a warning to the group, urging it to stop all "extremist" activities. But there was no clarification of what that means or which activities would be seen as "extremist." One of the Jehovah's Witnesses main codes of conduct is to be peaceful and not engage in violence. But according to an attorney with the country's Justice Ministry, Svetlana Borisova, the Jehovah's Witnesses "pose a threat to the rights of the citizens, public order and public security."
But the Jehovah's Witnesses dispute this claim, and the organization published a statement on its website on Wednesday. It says that Russian officials never specified any legal basis for the ban. According to the country's anti-extremism law, crimes that are "motivated by prejudice or, as stated in Russian law, 'ideological, political, racial, national or religious enmity, as well as hatred or enmity towards a social group'" are extremist crimes.
#Russia: #JehovahsWitnesses ban – blow 2 #FoRB, sign of totality. Pacifism is not extremism. https://t.co/FymTwysX6x pic.twitter.com/8auTw7Yp9B

— Jan Figel (@janfigel) April 21, 2017
The group argues that if that is the law under which the Jehovah's Witnesses are banned, that sounds like a clear misuse of the law. It describes the opposite of what the organization promotes, which is anti-violence. "In the whole world, Jehovah's Witnesses are known as peaceful, obedient, respectful citizens. We respect government, and we are politically totally neutral," said Yaroslav Sivulsky, an official from Jehovah's Witnesses in Russia.
The anti-extremism law also makes it illegal for any group other than the Orthodox Church to claim to "offer the true path to religious salvation." This basically means that there is no freedom of religion.
Many people see the latest court order as a crackdown on freedom of religion and expression. Some worry that other groups of people or religions will be next. Human Rights Watch issued a statement from Moscow and said the ban is "a serious breach of Russia's obligations to respect and protect religious freedom."
Catholics for Choice condemns #Russia's ban on Jehovah's Witnesses (learn more: https://t.co/KDelnhPC1W) pic.twitter.com/FrMCalcF6X

— Catholics for Choice (@Catholic4Choice) April 21, 2017
There are about 170,000 Jehovah's Witnesses in Russia and they are all now officially in the same category as extremists like Islamic State. According to the New York Times, the group does not engage in politics or criticism against the government. But President Putin has repeatedly targeted the Jehovah's Witnesses since his third term began in 2012, when he started promoting the Orthodox Church in order to lift Russia to greater international power.
Victor Zhenkov is a lawyer representing the organization. He called the ban "an act of political repression that is impermissible in contemporary Russia." He said they would appeal the ruling to the Supreme Court, and if that it fails, take it to the European Court of Human Rights in Strasbourg, France.