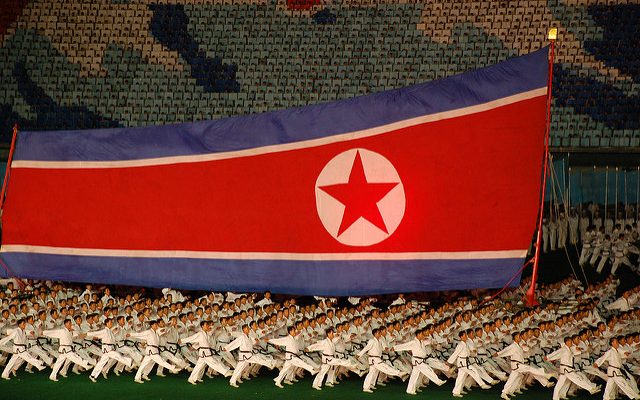 "North Korean March". Courtesy of: (stephan). License: (CC BY-SA 2.0)
World
North Korea Proclaims a Death Wish for Former South Korean President Park Geun-hye
By
|
Former South Korean President Park Geun-hye doesn't have a ton of fans right now. The former president was ousted and is currently facing corruption charges. At one point toward the end of her presidency, her approval rating fell to a measly 4 percent. But now there is apparently one more thing she has to worry about: North Korea.
While North Koreans have never been too fond of their neighbors to the south–technically speaking they are still at war–they appear to have a particular hatred for the former South Korean president. In an announcement on North Korea's state-run television, the state claimed that it had discovered a "revelation" that implicated Park and her National Intelligence Minister in organizing an assassination attempt in 2015 against Kim Jong-Un, the leader of North Korea.
Representatives from the North Korean government declared her actions "unpardonable"and issued a statement on North Korean state-run TV, saying she should receive: "A miserable dog's death any time, at any place and by whatever methods from this moment."
This announcement may have come as a response to an article published in a Japanese newspaper, Asahi Shimbun Daily, on Monday. It cited an anonymous source that claimed Park had approved of a plan to oust Kim from his position.
This is the second time in as many months that North Korea has accused the South Koreans of an assassination plot. In May, the North Koreans accused South Korea of teaming with the CIA in a biochemical attack against the supreme leader.
Alternately, North Korea's claims could be based on the attack that killed Kim Jong-un's half brother earlier this year in a Malaysian airport. That attack may have triggered internal fears that the North Korean government is vulnerable to assassination attempts. However, that theory might not hold up because others have claimed that the assassination of Kim's brother came from inside the government in the first place.
North Korea has attempted to assassinate leaders of South Korea before. In 1983, North Korean assassins attempted to kill then-South Korean dictator Chun Doo-hwan when he was visiting Burma, but the attack was unsuccessful.
Park already has enough problems to contend within in her own country. In December of 2016 it was alleged that she abused her power, supposedly accepting bribes and leaking classified information to an influential friend. The South Korean Parliament suspended her powers in December 2016, and in March she was removed from power by a South Korean court and then arrested.
It's incredibly unlikely that current South Korean President Moon Jae-in would grant an extradition request from North Korea. He recently visited Washington to meet with President Donald Trump. The two leaders were slated to discuss the ongoing tensions between the three countries and a possible joint response to the North's development of nuclear weapons.