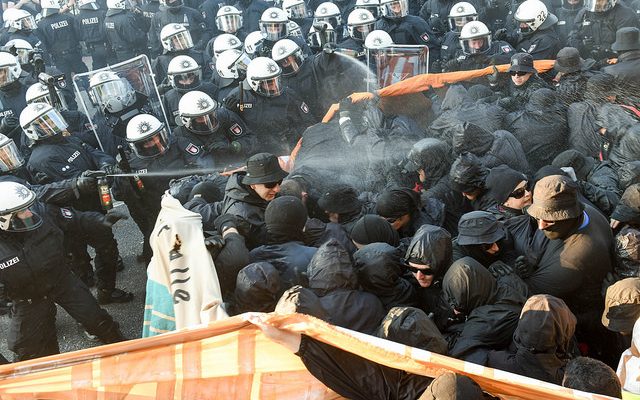 "Bunter Protest" Courtesy of Thorsten Schröder License: (CC BY 2.0)
World
Protesters and Police Clashed Ahead of G-20 Summit in Germany
By
|
Protests began Tuesday evening in Hamburg, Germany, ahead of the G-20 summit where leaders from 19 countries and the EU will gather on Friday and Saturday to discuss global issues, including trade and climate change.
Thousands of G-20 protesters gathered in Hamburg to protest capitalism, environmental inaction, and the G-20 summit itself. The protesters believe the summit is undemocratic because a select group of world leaders is making decisions that will impact the entire world. German police fired water cannons to disperse a group of about 500 protesters on Tuesday, according to the UK news outlet The Daily Express.
On Wednesday, 1,000 performance artists clad in clay-covered clothes crept and crawled through the streets of Hamburg. The performance by artist collective "1000 Gestalten" (1,000 figures) was meant to represent individuals' advancement of themselves rather than society as a whole, and to get people engaged in the political process, according to the group's website.
The demonstrators, coated head-to-toe in gray clay, inched their way down the street with dull expressions on their faces. Eventually, they stripped off their gray clothing to reveal colorful clothes–and for some, naked bodies–underneath as a symbol for joyous liberation.
Germany: Actors smeared in clay protest #G20 summit https://t.co/UgnAmmrVmT pic.twitter.com/IbmCdu8PjL

— RT (@RT_com) July 6, 2017
Peaceful protests continued on Wednesday and Thursday, including a march resembling a block party with music and dancing.
In Germany, they protest the #G20 with dragons on top of cars, beer, and serious, serious techno. pic.twitter.com/egGxSKMqVy

— James H-H (@jamesonthewaves) July 5, 2017
Stores boarded up their windows in preparation for property destruction and looting.
Hamburg: stores closed/boarded up in anticipation of (anti-NATO/IMF) #G20 protesters,"Hamburg macht dicht" #G20HAMpic.twitter.com/jrWIdn3OJc

— Kristina Dei 📡 (@2kdei) July 6, 2017
One group of protesters dressed as the heads of state present at the summit to protest the leaders. Another group carried a sign reading "Welcome to Hell," a phrase which became the moniker of Thursday's march.
G20 Welcome to Hell – My pictures of yesterday are online. Escalated After Police attack https://t.co/pclzlbMUTn #g20 #nog20 #w2h #nog20en pic.twitter.com/FEiePPHhWA

— Fabian Schumann (@schumann_fabian) July 7, 2017
According to the Guardian, the "Welcome to Hell" march was supposed to travel from Hamburg's harbor toward the convention center where the summit is being held, however police stopped the protesters from proceeding shortly after the march began.
Hamburg police deployed water cannons and tear gas against protesters Thursday evening around 7 p.m. Some protesters began tossing bottles and other objects back at police, according to The Daily Express.
Demonstrators clashed with police in Hamburg during an anti-G20 protest, with tear gas and water cannon being used #G20 pic.twitter.com/eYyTIWksqk

— Sky News (@SkyNews) July 6, 2017
Protests at the G-20 summit are nothing new. During the 2010 G-20 summit in Toronto, peaceful protests were interrupted by a group of anarchists who destroyed police cars, store windows, and other property. Police used batons, tear gas, pepper spray and plastic bullets against protesters, and detained more than 1,000 people.
While the G-20 has seen protests before, the events leading up to this year's summit were especially tense given protesters' opposition to President Donald Trump. Trump visited Poland's President Andrzej Duda in Warsaw, Poland, on Thursday and gave a speech questioning "whether the West has the will to survive."
Trump then flew to Germany later that day for the G-20 summit, arriving amidst the protests in Hamburg, where he met with German Chancellor Angela Merkel. The president declined to say what he and Merkel discussed behind closed doors. However, Merkel told the German parliament on June 29 that "we cannot expect easy talks in Hamburg" on climate issues.
On Friday, the first day of the summit, demonstrators resumed peaceful protests with sit-ins and marches.
RAW: Police cleared a sit-in protest ahead of the opening of #G20 summit (Video: Sebastian Kroeck) pic.twitter.com/96Ai6X1WE7

— dwnews (@dwnews) July 7, 2017
"You are 20, we are plenty," reads a banner shown at a #G20 protest rally in #Hamburg. #G20HAM17pic.twitter.com/7yEKqGfRiE

— Arafatul Islam (@arafatul) July 7, 2017
With the start of the G-20 summit, Trump will continue to meet with fellow heads of state, including his first face-to-face meeting with Russian President Vladimir Putin on Friday.
Donald Trump and Vladimir Putin meet for the first time at the G20 summit in Hamburg pic.twitter.com/LQmSKkWQks

— Sky News (@SkyNews) July 7, 2017
If one thing is clear, it's that demonstrators from Germany and around the world are dissatisfied with the G-20 summit and the direction in which the world's top leaders are moving.