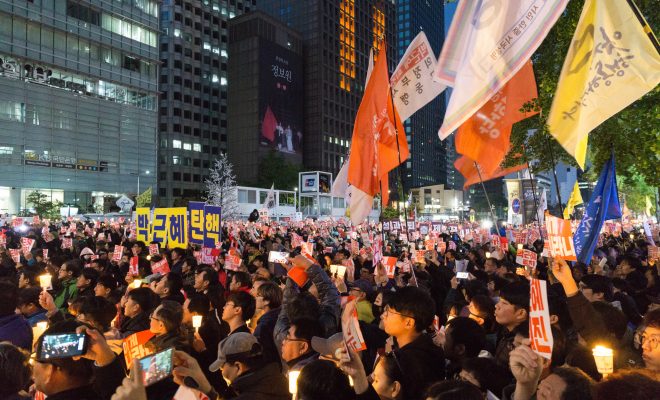 Image Courtesy of Teddy Cross; License: (CC BY 2.0)
World
South Korean Prosecutors Seek Arrest Warrant for Former President Park Geun-hye
By
|
Prosecutors in Seoul said on Monday that they would pursue an arrest warrant for former South Korean President Park Geun-hye, who was unseated from office earlier this month by the Constitutional Court. The Seoul District Court will examine the prosecutors' request in a hearing scheduled for Thursday morning. If the request is granted, Park, 65, would be the first president to be jailed since the 1990s, when the former military dictators Chun Doo-hwan and Roh Tae-woo were arrested on charges of sedition and mutiny.
Impeached in December and formally removed from office on March 10, Park is accused of bribery, extortion, and abuse of office. In a statement, the Seoul Central District Prosecutor's Office said Park "abused the mighty power and position and president to take bribes from companies and infringed upon the freedom of corporate management and leaked important confidential official information."
Last fall, hundreds of thousands across the country began demanding Park's ouster, as she was accused of conspiring with her longtime friend Choi Soon-sil to extort millions of dollars from South Korea's largest business conglomerates, including Samsung, in exchange for political favors. Choi, an unelected, largely secretive presence inside Park's inner circle of advisers, is in custody, along with the Samsung executive Lee Jae-yong. Both are being investigated on charges of corruption.
Park has publicly apologized for the allegations against her, but has consistently denied any legal wrongdoing. The prosecutors' office, in its statement on Monday, said "there is a danger of her destroying incriminating evidence if she is not arrested."
As president, Park was immune from a criminal investigation, but now, as a private citizen, she does not enjoy the same protection. If the judge in Seoul grants the prosectors' request, Park will be held behind bars for up to 20 days, during which time the prosecutors will continue the investigation. A spokesman for Park's Liberty Korea Party called the prosecutors' request for an arrest warrant "regrettable." The main opposition faction, the Democracy Party, called it "historic." An early election will take place on May 9.
South Korea is facing a critical time in its young democracy: North Korea is firing off ballistic missile tests every few weeks, and relations with China are declining because of a defense shield the U.S. began deploying to South Korea earlier this month. Beijing views the missile defense system, or THAAD, as a threat to its own missile program. Park, for her part, is steadfast in denying any wrongdoing. "It will take time, but I am sure that the truth will be known," she said a few days after her ouster from office.