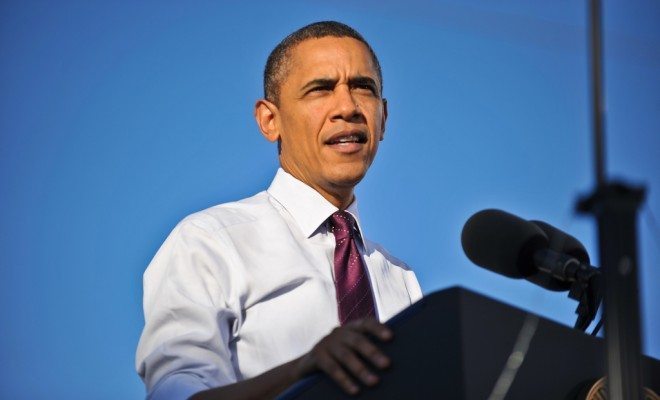 Image courtesy of [Nick Knupffer via Flickr]
World
President Obama Bans Import of Slave-Produced Goods
By
|
President Obama signed a bill this week that closes a nearly 85-year-old trade loophole allowing the import of slave-produced goods into the United States. The new regulations, which will affect a long list of goods known to be created by child or forced labor, will go into effect in about two weeks.
The loophole allowing goods made by child or forced labor into the United States is found in the Tariff Act of 1930. While these types of goods are traditionally prohibited under U.S. law, there's an exception in the tariff–"consumptive demand." Essentially what that means is that if it's impossible to supply the domestic demand without importing products made via child or forced labor, those products are allowed to be imported.
The list of products that these new regulations will affect most heavily are cotton, sugarcane, tobacco, coffee, cattle, and fish. The Department of Labor's list of goods produced by child labor or forced labor also includes things like gold, diamonds, electronics, and pornography–depending of course on the producing country.
There's been a particular focus on the use of forced labor in the Thai fishing industry, after a number of exposes written over the last year have exposed the use of trafficked Rohingya migrants as slave workers on Thai fishing boats. According to the Guardian:
Hundreds of people are thought to have been traded as slaves to support Thailand's $7.3bn seafood industry. Costco and CP Foods are facing a lawsuit, filed in California, to prevent the sale of Thai prawns/shrimp tainted by slavery. In January, European Union investigators visited Thailand to see whether it had made enough progress on the issue of slavery to avoid an EU-wide ban on seafood imports from the country.
Senator Sherrod Brown (D-Ohio) proposed the amendment that closed the loophole, and now his office is asking the U.S. Customs and Border Protection agency to begin enforcing the new roles as soon as they go into effect in 15 days. Brown stated:
It's embarrassing that for 85 years, the United States let products made with forced labor into this country, and closing this loophole gives the U.S. an important tool to fight global slavery.
Brown is right–while this may mean less choices for consumers in the U.S., it will be a comfort to know that we no longer lend such support to forced labor.