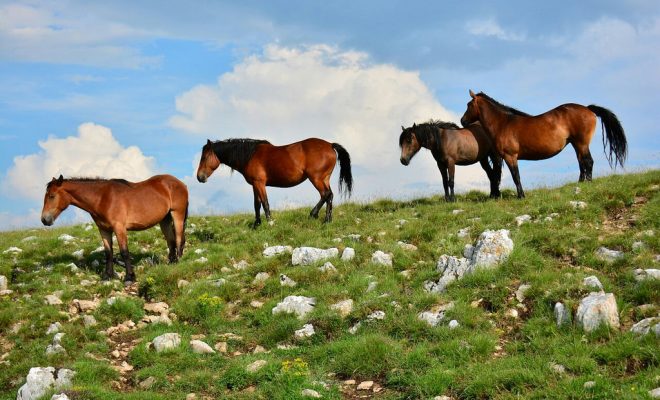 Image courtesy of Brian Eager; license: (CC BY 2.0)
Weird News
Congress Might Soon Approve of Horsemeat for Dinner
By
|
It seems like Congress is one step closer to allowing horsemeat for human consumption. In the U.S., it's illegal to sell or serve meat that hasn't been inspected by the Department of Agriculture. At the same time, there has been a ban on funding horsemeat inspections, which has effectively shut down the practice of slaughtering horses for consumption.
But last week, the House Appropriations Committee voted down the ban 27-25. Even wild horses could be in danger under the Trump Administration. The budget proposal for 2018 suggested that killing or selling of wild horses should be allowed in order to save money on their care.
Wild horse advocates are concerned that this would end an almost half-century long protection of horses, and said that the president is just giving in to livestock lobbyists.
On Tuesday, the committee will vote on a bill that prohibits government funding for "the destruction of healthy, unadopted wild horses" or selling wild horses if it will lead to "their destruction for processing into commercial products."
The ban on funds for horsemeat inspection has led to over 100,000 horses being exported annually to Canada or Mexico to be slaughtered. Those in favor of ending the ban said that allowing inspection on horse slaughtering in the U.S. could ensure a more humane treatment of the horses.
Congress is dangerously close to opening the door for horse slaughter to return to the US, take action today: https://t.co/bIYFTMUIHa pic.twitter.com/8zGHbA35qa

— ASPCA (@ASPCA) July 18, 2017
But supporters of the ban said that previous inspections in the U.S. showed the horses were being treated inhumanely, with some even being "conscious during dismemberment." "We know unequivocally that horse slaughter is not humane and can't be done humanely because of the unique biology of horses," said Representative Lucille Roybal-Allard.
Eating horsemeat is controversial in America; most Americans see horses as pets or companions, and Representative Marcy Kaptur pointed out that Americans fought wars and built the country on the backs of horses. The three remaining horse slaughterhouses in the U.S. closed in 2007.
While horsemeat is still seen as a delicacy in some parts of the world, like Japan and Belgium, eating horse is taboo in many Western countries. Four years ago there was a horsemeat scandal in Europe that spread from Ireland across at least 19 countries. Companies like Ikea had to publicly apologize and recall food products after they were found to contain traces of horsemeat.