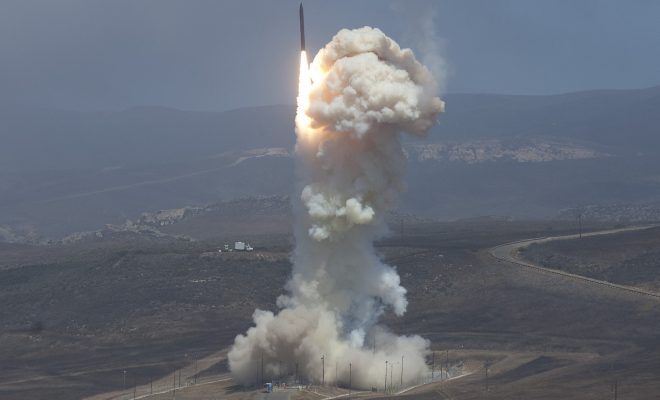 Image Courtesy of U.S. Missile Defense Agency; License: (CC BY 2.0)
World
Pentagon Tests Defense System Designed to Thwart North Korean Missiles
By
|
A day after North Korea launched yet another missile test, the Pentagon tested a missile defense system on Tuesday, its first in three years, in recognition of the closer-than-ever reality of a nuclear-armed North Korea. The system, called the Ground-based Midcourse Defense, is designed to thwart inter-continental ballistic missiles, or ICBMs, that can strike the continental United States.
Kim Jong-un, the North's leader, suggested Pyongyang is nearly capable of launching such a missile, and its recent flurry of medium and short-range missile tests has proved Kim's rhetoric is more than mere words.
Here's how the $244-million defense system works:
A test missile is launched off an atoll in the Marshall Islands. Concurrently, a so-called "interceptor" launches from an underground airbase in California, spitting out a "kill vehicle" that collides with the missile–hopefully destroying it–mid-air before it can hit the earth. The system, which launched its first test in 2004, is far from a sure thing: it has been successful in four of nine attempts.
According to the Associated Press, Tuesday's test was a success:
BREAKING: Pentagon says it has shot down mock warhead over the Pacific in key success for US missile defense program.

— The Associated Press (@AP) May 30, 2017
"This is part of a continuous learning curve," Navy Capt. Jeff Davis, a Pentagon spokesman, recently said. "We improve and learn from each test, regardless of the outcome. That's the reason we conduct them," he added. "We look forward to understanding the results so we can continue to mature the system and stay ahead of the threat."
That threat is perhaps more pressing than ever before. North Korea has launched a handful of missile tests since President Donald Trump took office in January. Trump has vowed to stop the threat, and has looked to China, the North's neighbor, largest trading partner, and primary benefactor, to pressure Kim to cease his provocations. Trump, meanwhile, reacted to North Korea's latest test on Twitter:
North Korea has shown great disrespect for their neighbor, China, by shooting off yet another ballistic missile…but China is trying hard!

— Donald J. Trump (@realDonaldTrump) May 29, 2017
In addition to Tuesday's interceptor test, the Pentagon is deploying two U.S. aircraft carriers to the Sea of Japan on Wednesday, for a few days of training. Despite the training sessions taking place hundreds of miles off of the Korean Peninsula, one U.S. official told CNN, "how can we say it's not sending a message?"
On Sunday's "Face the Nation," Defense Secretary James Mattis made clear that the U.S. is taking the North Korean threat seriously. He said: "They have been very clear in their rhetoric — we don't have to wait until they have an intercontinental ballistic missile with a nuclear weapon on it to say that now it's manifested completely."