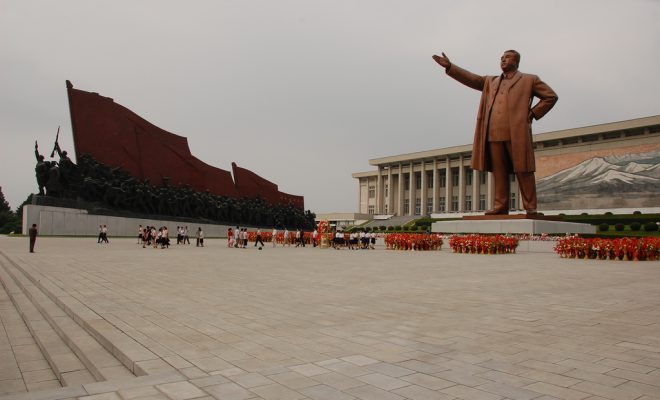 Image Courtesy of (stephan); License: (CC BY-SA 2.0)
World
North Korea Tests Trump's Resolve with Missile Launch
By
|
As a ballistic missile launched skyward in the northern mountains of North Korea on Saturday, President Donald Trump and Prime Minister Shinzo Abe of Japan were relaxing in Palm Beach, Florida. The two leaders were dining Saturday night at Trump's Mar-a-Lago resort when the call came: North Korea launched an intermediate-range missile off its eastern coast; it traveled 310 feet before plunking into the Sea of Japan.
Hours later, at about 10:30 p.m., Trump and Abe delivered a joint-statement on North Korea's latest provocation. Abe called the missile test "absolutely intolerable." He added: "North Korea must fully comply with the relevant UN Security Council resolutions," which implore the insular nation to halt its nuclear weapons program and missile tests, which have been consistently launched over at least the past year.
North Korea poses a challenge for Trump: its leader, Kim Jong-un, has shown a proclivity to provoke, and Trump has a tendency to respond rashly–and loudly–to provocation. But three weeks into his presidency, Trump seems to be adopting a muted tone toward North Korea, and in his remarks on Saturday, he showed that he won't be easily baited into a conflict.
After Abe spoke, Trump took to the dais, and simply said: "I just want everybody to understand and fully know that the United States of America stands behind Japan, its great ally, 100 percent." There was no direct mention of North Korea or its missile launch. It is unclear if Trump will respond in some other capacity in the coming days or weeks. But on Sunday, Trump's senior policy adviser, Stephen Miller, hinted at how the U.S. might counter future North Korean threats.
#BREAKING: North Korea publishes video of yesterday's missile test pic.twitter.com/0732BlcJ3m

— Amichai Stein (@AmichaiStein1) February 13, 2017
"President Trump is going to go to Congress and ask them to invest in our military so once again we will have unquestioned military strength beyond anything anybody can imagine," Miller said on CBS's "Face the Nation." Miller called the joint-statement between Abe and Trump a "show of strength." But the absence of any mention of South Korea, the most vulnerable target of a missile launched from its northern neighbor, was rare for a U.S. statement following a North Korean missile launch.
"I was glad he issued the statement with the prime minister of Japan, but he ought to do it quickly with South Korea," Sen. Chuck Schumer (D-NY) said on "Face the Nation." He added: "South Korea is probably more susceptible to North Korea's virulence than any other country."
According to the South Korean military and the U.S. Strategic Command, the missile was an intermediate-range Musudan missile. While it was the first direct test of Trump's North Korean stance during his presidency, he did have a response to a North Korean threat while he was the president-elect. On New Year's Day, Kim said North Korea was entering the "final stage in preparations" for testing an intercontinental missile, which could reach the U.S. Trump responded on Twitter:
North Korea just stated that it is in the final stages of developing a nuclear weapon capable of reaching parts of the U.S. It won't happen!

— Donald J. Trump (@realDonaldTrump) January 2, 2017
And while Trump made no mention of South Korea on Saturday, his Defense Secretary James Mattis visited the country in his first overseas trip a few weeks ago. He affirmed the U.S.'s commitment to the Terminal High Altitude Area Defense (THAAD) anti-missile system, which will soon be deployed to South Korea. "I talked to President Trump and he wanted to make a very clear statement about the priority that we place on this alliance between our two nations," Mattis said.