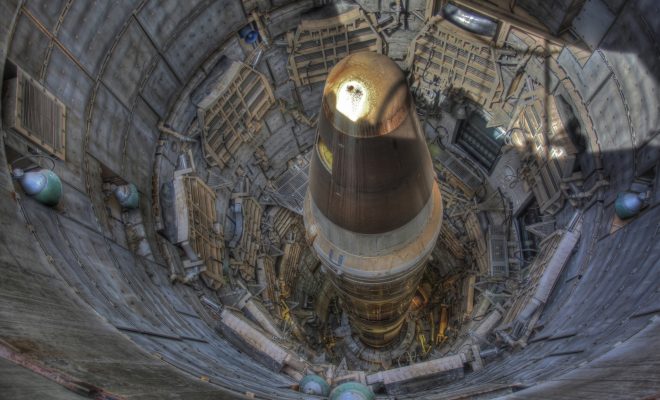 Image Courtesy of [Steve Jurvetson via Flickr]
World
North Korea Launches Nuclear Missile Test
By
|
On a North Korean state news broadcast on Friday, an anchorwoman gazed downward as she read a prepared government statement: "Scientists and technicians of the Workers Party of Korea carried out a nuclear explosion test to judge the power of a nuclear warhead."
"We will continue to strengthen our nuclear capabilities to protect our sovereignty. We have now standardized and minimized nuclear warheads… We can now produce small nuclear warheads any time we desire," the anchor said.
Along with the country's official statement, evidence of a nuclear launch came through an artificially caused 5.3 earthquake, detected by the U.S. Geological Survey near the site of previous nuclear test launches by Pyongyang. 
The test represents the fifth nuclear test conducted by North Korea, and the second in 2016. The first was in January. According to the South Korean Defense Ministry, Friday's test was North Korea's most potent to date. Since October 2006, when North Korea began testing its nuclear capabilities, the explosive power of its tests have steadily grown, from less than one kiloton of energy in 2006 to six to seven in 2013. Its latest attempt registered at 10 kilotons. For context, the atomic bomb the U.S. dropped on Hiroshima, Japan in 1945 was 15 kilotons.
Under heavy international sanctions and facing weakening ties with nearly the entire international community, minus China, which it still trades with, North Korea has been conducting missile tests seemingly every week. Most recently, it launched three ballistic missiles last week toward Japan, one of which landed within 155 miles of a Japanese island. North Korea's bombastic leader, Kim Jong-un, is increasingly worrying the international community with his antics.
North Korea claims successful test of nuclear warhead, its 5th and potentially most powerful https://t.co/6r9Lyg4otI pic.twitter.com/RMFHhvPnRp

— CNN (@CNN) September 9, 2016

North Korea faced condemnation from its Pacific neighbors as well as international actors. President Obama, in a statement released Friday morning, said the U.S. condemns "in the strongest possible terms as a grave threat to regional security and to international peace and stability." The test represents a "flagrant violation of multiple UN Security Council Resolutions," the statement said.
Occurring just days after the G-20 summit in Hangzhou, China, a meeting between leaders of the world's leading industrial powers, the test came at a peculiar time: Friday marks the 68th anniversary of North Korea's founding. While it is unclear whether the latest test demonstrates an ability to launch an actual nuclear warhead mounted atop a missile, Obama and his allies in East Asia are certainly taking the test as a credible threat.
In his statement, Obama said he spoke with President Park Geun-Hye of South Korea and Prime Minister Shinzo Abe of Japan, reiterating America's "commitment to provide extended deterrence, guaranteed by the full spectrum of U.S. defense capabilities."