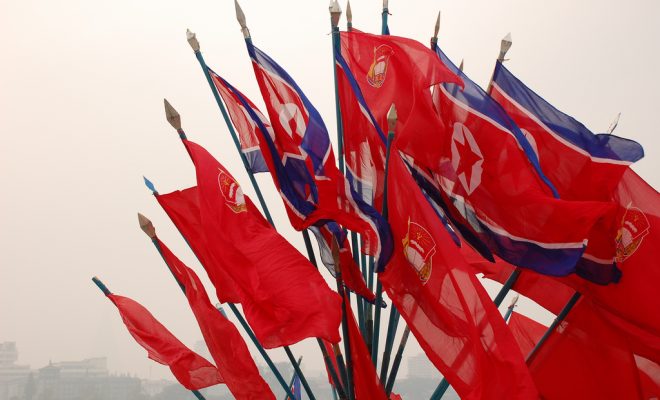 Image Courtesy of [(stephan) via Flickr]
World
North Korea Continues to Test Missiles; Emergency U.N. Meeting Called
By
|
With its recent series of missile tests and blustery rhetoric, North Korea is cultivating an atmosphere of paranoia in the Pacific and prompting America to collaborate more closely with its Pacific allies. The nuclear nation's latest provocation came at dawn on Wednesday, when two Rodong missiles launched from a province in the west toward the Sea of Japan in the east. One missile fizzled quickly and plunked down into the sea, while the other continued on for 620 miles, South Korean and Japanese officials said, making it one of the North's furthest reaching missile tests yet. The most concerning element of Wednesday's launch: the second missile landed within Japanese maritime territory, as it flew well within Japan's 200-mile exclusive economic zone, or EEZ.
The latest round of missile tests comes at a tense time between North Korea and the U.S. North Korea took umbrage with the direct sanctions the U.S. recently placed on its Supreme Leader Kim Jong Un (they also targeted other high-ranking members in Un's cabinet), as a former diplomatic corridor between the two nations was shuttered. The North Korean diplomat who used to head that channel said the U.S. sanctions amounted to a "declaration of war." Heightening tensions between North Korea and the U.S., South Korea recently agreed to deploy the U.S.-built THAAD missile system–a truck mounted missile interceptor–that has also angered China.
Wednesday's launch of two mid-range missiles–Pyongyang is thought to possess an arsenal including 300 Rodong missiles, which have a maximum range of 800 miles, far enough to strike mainland Japan–were condemned by government officials in Japan, South Korea, and the U.S. Prime Minister Shinzo Abe of Japan called the episode a "serious threat to Japan's security" and an "unforgivable act of violence." Japan recently released its annual defense report, which, according to South Korea media, refers to North Korea's nuclear threat as "grave and urgent."
Washington, which maintains strong economic and military ties with Japan and South Korea, also denounced the North's most recent test. "This provocation only serves to increase the international community's resolve to counter [North Korea's] prohibited activities, including through implementing existing U.N. Security Council sanctions," said Gary Ross, a Pentagon spokesman and naval commander.
In June, North Korea sent a series of Musudan missiles to an altitude higher than it had in the past, signaling its readiness to strike U.S. military bases in Japan, or its southern neighbor, South Korea. The North's increased military flexing might be a pre-emptive response to joint military exercises set to take place between the U.S. and South Korea later this month, as it usually amps up its weapons testing in the months leading up to the annual military exercises. In an interview with The Associated Press, Han Song Ryol, the North Korean diplomat who said the U.S. had already declared war on Pyongyang with their sanctions, said if the August exercises go as planned, North Korea has a "self-defensive right and justifiable action to respond in a very hard way."
And indicating just how serious this latest threat is being taken by the international community, the U.S. and Japan called an emergency meeting with the United Nations Security Council for Wednesday afternoon.