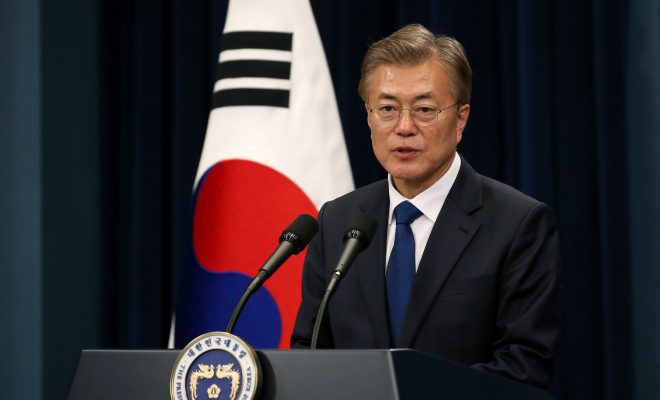 Image Courtesy of Jeon Han; License: (CC BY-SA 2.0)
World
U.S. and South Korean Officials Outline New Approach to North Korea
By
|
During a meeting in Seoul on Tuesday, South Korean and U.S. officials described guidelines the two allies would follow in dealing with North Korea, which tested a powerful missile on Sunday. With a new administration installed in South Korea last week, a uniform approach between the U.S. and South Korea toward North Korea is facing new uncertainties.
Moon Jae-in, who was elected president last week, is the country's first liberal leader in years. He supports a more dialogue-based strategy in cooling the North's nuclear ambitions than his U.S. counterpart, President Donald Trump. The Trump Administration has previously indicated "all option are on the table" in regard to responding to the North Korean threat–including a pre-emptive military strike. But now, U.S. and South Korean leaders appear to be on the same page.
Yoon Young-chan, Moon's spokesman, detailed the approach to North Korea he discussed on Tuesday with Matthew Pottinger, the Asia director on the National Security Council. "First, the ultimate goal is to completely dismantle the North Korean nuclear weapons," Yoon said. "Second, to that end, both sides will employ all means, including sanctions and dialogue. Third, dialogue with North Korea is possible when the circumstances are right. Fourth, to achieve these goals, South Korea and the United States will pursue drastic and practical joint approaches."
Liberals in South Korea, including Moon, favor a diplomatic approach–like increased economic investment–to dampen the nuclear threat from its northern neighbor, in contrast to South Korean conservatives' hard-line approach. Previous diplomatic overtures to North Korea have failed, and critics say investment from past liberal administrations in South Korea have ironically boosted the North's nuclear capabilities.
Both Trump and Moon have indicated they would be willing to meet with North Korea's young leader, Kim Jong-un. North Korean and South Korean leaders last met for face-to-face talks in 2007. In launching a missile test on Sunday, by some estimates its most powerful yet, North Korea reminded the world that its nuclear and military ambitions remain unbroken. The missile flew nearly 500 miles before falling into the sea.
South Korean officials recently said that North Korea's nuclear program is progressing at a quicker pace than expected. And despite its failed launch last month and recent slaps on the wrist from China, its foremost trade partner and benefactor, North Korea remains a threat to the U.S. and its allies in the region, namely Japan and South Korea.
On Tuesday, U.S. and South Korean officials said a summit meeting between Moon and Trump could come as early as next month. Last Wednesday, when Moon was sworn in at the National Assembly, he said he would "do whatever it takes to help settle peace on the Korean Peninsula," adding: "If necessary, I will fly immediately to Washington."