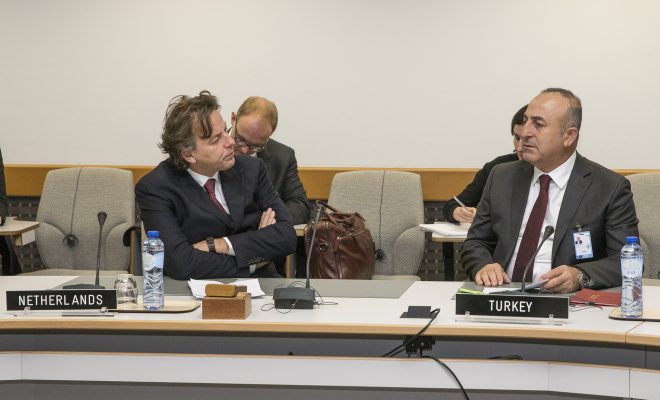 Image Courtesy of Ministerie van Buitenlandse Zaken's photostream; License: (CC BY-SA 2.0)
World
What you Need to Know About the Netherlands-Turkey Standoff
By
|
Turkey on Tuesday warned it might impose economic sanctions against the Netherlands, as a diplomatic rift between the two countries intensifies. The ongoing spat comes at a time of political uncertainty for both countries: anti-Muslim sentiment is on the rise in the Netherlands, which held an election on Wednesday, and Turkish President Recep Tayyip Erdogan faces a referendum vote next month that could greatly expand his powers. Here is what you need to know about the deepening conflict, and what it could mean for the future.
Roots of the Conflict
Last weekend, Erdogan dispatched members of his cabinet to the Netherlands, Germany, and Belgium, European countries with high numbers of Turkish migrants, to stir up support for next month's referendum. A "yes" vote in the referendum would broaden his already considerable governing powers. Turkish ministers planned to fly to Rotterdam to give a speech to Turkish migrants living in the Netherlands, hoping to galvanize support for Erdogan in the weeks before the vote.
But on Saturday, Dutch Prime Minister Mark Rutte blocked Turkish Foreign Minister Mevlut Cavusoglu from flying to Rotterdam. "This decision is a scandal and unacceptable in every way," Cavusoglu said. Pro-Turkish protesters swarmed the country's consulate in Rotterdam soon after, hurling stones and bottles; police were seen beating some protesters with batons. "To all Turks in the Netherlands who agree with Erdogan: Go to Turkey and NEVER come back!!" Geert Wilders, the Dutch far-right candidate whose anti-Muslim rhetoric has influenced Dutch politics, tweeted on Saturday.
Rhetoric Heats Up
On Sunday, after the barring of Cavusoglu, Erdogan, who is accused of jailing dissidents and journalists, responded by comparing the Dutch to Nazis and fascists. "Listen Netherlands, you'll jump once, you'll jump twice, but my people will thwart your game," he said, warning that Turkey would respond in the "harshest ways." Erdogan added: "They don't know diplomacy or politics. They are Nazi remnants. They are fascists."
In retaliation to Cavusoglu's ban, Turkey blocked access to the Dutch embassy in Ankara and its consulate in Istanbul. On Monday, Turkey officially severed high-level diplomatic relations between the two countries. And on Tuesday, the deputy prime minister suggested that Turkey might impose economic sanctions on the Netherlands in the near future.
Broader Consequences
As Europe deals with a number of consequential elections this year, the last thing it needs is a spat with its neighbor, and aspiring European Union member, Turkey. The conflict has soured quite quickly. Yet deeper, more wide-ranging consequences could follow in the coming months. Germany, Austria, Belgium, and Switzerland have all followed the Netherlands in blocking rallies related to Turkey's referendum.
Germany might have the most to lose. Turkey recently agreed to a deal with Germany, which has also barred Turkish ministers from giving political speeches, to stop migrants from the Middle East from entering Germany. Turkey could pull out of the deal if the row with the Netherlands and Germany worsens. In fact, on Wednesday, Cavusoglu suggested as much, saying, "we are evaluating the refugee deal." With an election in September, German Chancellor Angela Merkel can't afford to lose Turkey's cooperation in stemming the migrant flow, which has fueled the anti-immigrant message of her opponents.
Meanwhile, Erdogan, whipping up support back home, is posturing himself as being cornered by Europe's bullying, which could underscore his anti-western and, many observers say, anti-democratic governing style. As he seeks to strengthen his power in next month's referendum vote, Erdogan's aggressive actions in Europe could bolster his standing at home, but weaken ties with Europe at a time when cooperation is more vital than ever before.