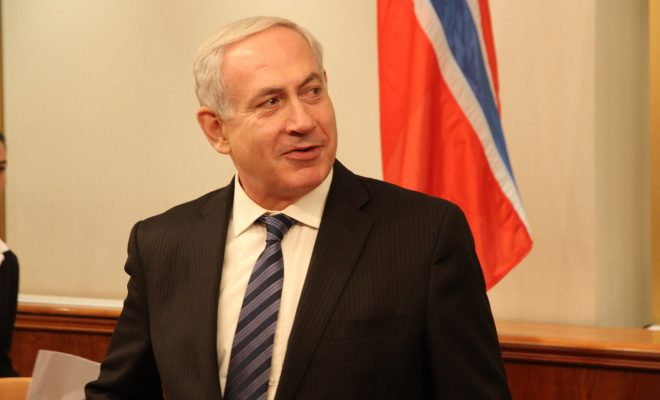 Image Courtesy of Utenriksdepartementet UD; License: (CC BY-ND 2.0)
World
Netanyahu Calls Paris Peace Conference "Rigged" and "Anti-Israel"
By
|
Representatives from 72 countries will be in Paris on Sunday, discussing a highly contentious issue that has befuddled the international community for decades: a two-state solution for the Israeli-Palestinian conflict. On Thursday, Israeli Prime Minister Benjamin Netanyahu said the conference was "rigged," and suggested that it could push the prospect of peace further away.
During a meeting in Jerusalem with Norway's foreign minister, Netanyahu, who declined an invitation to the Paris conference, said: "It's a rigged conference, rigged by the Palestinians with French auspices to adopt additional anti-Israel stances." He added: "This pushes peace backwards. It's not going to obligate us. It's a relic of the past."
The Israeli-Palestinian conflict captured the world's attention last month, when the U.S. abstained in a U.N. Security Council vote on a resolution that called Israeli settlement activity a "flagrant violation" of international law. Secretary of State John Kerry, who will be leaving office next week, followed the contentious abstention with a longwinded speech that called Israel's West Bank settlements a major impediment to peace, and an obstacle to forging an eventual Palestinian state.
The speech drew the ire of Netanyahu and President-elect Donald Trump, who has promised to strengthen the U.S.-Israel partnership. Trump nominated David Friedman, a New York bankruptcy lawyer, as his ambassador to Israel. Friedman is an staunch advocate for West Bank settlements, and has donated to the settlement movement in the past.
He has also suggested moving the U.S. Embassy from Tel Aviv to Jerusalem, which could inflame tensions even further–the Palestinians claim Jerusalem as the capital of a future state. Trump's team recently said they might have Friedman live and work in Jerusalem while keeping the embassy in Tel Aviv.
In a recent speech, French President Francois Hollande, addressing the Paris conference, said: "I cannot accept the status quo, letting people think that the conflict would resolve itself. It is not true. That is why France took the initiative of a conference on the Middle East."
Hollande acknowledged that peace can only come through bilateral talks between the Israelis and Palestinians. The Paris conference is meant to reaffirm the international community's commitment to a two-state solution. The last round of bilateral talks came in 2014. Those talks, brokered by the U.S., quickly fizzled.