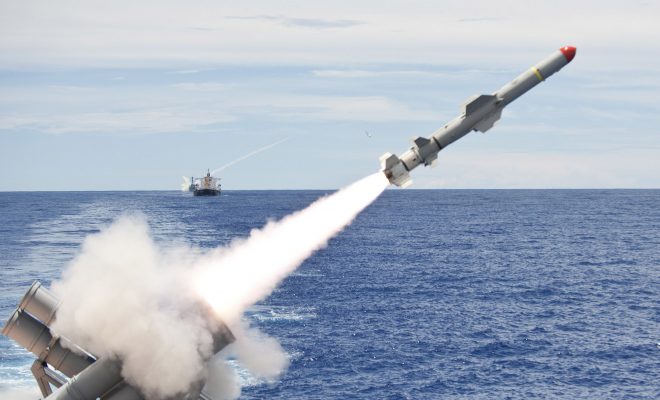 Image Courtesy of [Commander, U.S. 7th Fleet via Flickr]
World
North Korean Missile Reaches Japan's Air Defense Zone
By
|
With a submarine-based missile launch on Wednesday, North Korea reached dangerous new territory, as the missile breached Japan's air defense identification zone–a first, according to Japanese Prime Minister Shinzo Abe. The missile, a 9 meter long KN-11, launched from the waters off Sinpo, in North Korea's South Hamgyong Province. U.S. Pacific Command tracked the missile as traveling 300 miles over the Sea of Japan before falling into the waters below Japanese-controlled airspace.
"If the North Korean regime continues to pursue its nuclear and missile capabilities and ignore severe economic difficulties of its people, it will bring about more severe sanctions and diplomatic isolation. It should also realize that it will hasten its self-destruction," South Korea's Foreign Ministry said in a statement.
The KN-11, a missile with a maximum reach of 4,000 kilometers, launched from a submarine at 5:30 a.m. local time, according to South Korea's Foreign Ministry. It marks the latest in a string of missile launches from the communist country over the past few months. It was not entirely surprising, given the fact that the North said if the annual joint military exercises between South Korea and the United States occurred (they started Monday), it has a "self-defensive right and justifiable action to respond in a very hard way."
Video: North Korea test-fired a ballistic missile from a submarine, two days after ROK-US war game pic.twitter.com/pg1ftkeAdI

— China Xinhua News (@XHNews) August 24, 2016
And given a letter North Korea sent to the U.N. Security Council on Tuesday, that seems to be what happened. "U.S.-led large-scale joint military exercise in collusion with the South Korean forces despite repeated warnings of the DPRK is a grave military provocation aimed to launch a preemptive nuclear attack on the DPRK and a challenge to regional peace and stability in every way," said the letter, referring to the country's official title, the Democratic People's Republic of Korea.
Shinzo Abe, Japan's prime minister, called the latest missile test "a threat to Japan's security and an unforgivable reckless act that significantly damages the peace and stability of the region." And the three most powerful nations in the region agreed on Wednesday to meet to discuss deterring an increasingly adventurous North Korea. At a meeting following the morning launch, the foreign ministers of Japan, South Korea, and China announced a trilateral summit to take place in Japan by the end of the year.
"There are many problems existing between the three countries, but China, Japan, and South Korea are the three biggest economy entities in Asia. It's our responsibility to promote economic development, lead regional cooperation and maintain regional peace and stability," said Wang Yi, China's Foreign Minister.