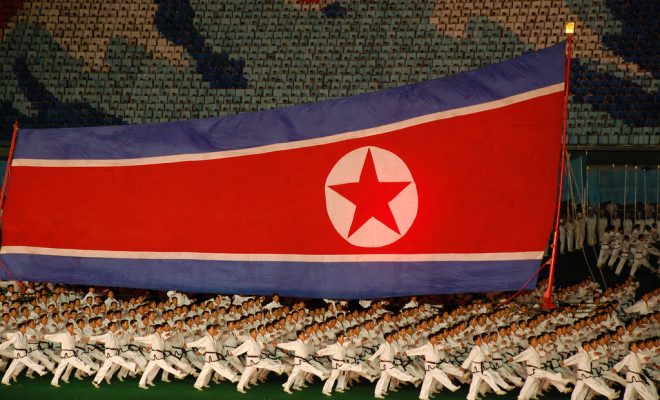 Image Courtesy of (stephan); License: (CC BY-SA 2.0)
World
Mike Pence Heads to Seoul as Military Clash with North Korea Looms
By
|
Vice President Mike Pence will travel to Seoul on Sunday, a day after North Korea is expected to test a nuclear missile. The U.S. military recently threatened a preemptive strike to thwart the North's nuclear ambitions. The first stop on a 10-day Asia trip–which includes stops in Tokyo, Jakarta, and Sydney–Pence is expected to discuss the North's latest provocations with South Korean officials. Trade will also be on the agenda.
Pyongyang recently threatened to conduct its sixth nuclear test in a decade, rising tensions–and the odds of a military confrontation–to the highest levels in recent years. Its threat carries added weight because of Saturday's "Day of the Sun" celebration, which commemorates its late founder Kim Il-Sung's 105th birthday. North Korea, which has inched closer to developing an intercontinental ballistic missile that can reach the coastal U.S., commonly engages in military posturing on its founder's birthday.
A senior White House foreign policy adviser said on Thursday that Pence will address North Korea's latest provocations with South Korean officials on Monday. "We're going to consult with the Republic of Korea on North Korea's efforts to advance its ballistic missile and its nuclear program," the adviser said. Referring to North Korean leader Kim Jong-un, the adviser added: "Unfortunately, it's not a new surprise for us. He continues to develop this program, he continues to launch missiles into the Sea of Japan."
The U.S. is prepared to take a preemptive strike against the North's nuclear sites, the adviser and other officials said. Earlier this week, in a show of force, the military sent aircraft carrier Carl Vinson toward the Korean peninsula. Two destroyers, one a mere 300 miles from a North Korean nuclear site, were also recently shipped to the area.
North Korea recently warned of a "big event" for this weekend's ceremony. On Thursday, it released a statement that promised a "merciless retaliatory strike" for any U.S. attack. Trump has reportedly reached out to Chinese President Xi Jinping a few times since their meeting last week, imploring him to corral Kim's nuclear buildup. China, the North's biggest trading partner and the crutch that keeps its economy afloat, has so far shown little appetite for pulling the plug on North Korea.
Meanwhile, North Korea has shown no signs of backing down. In its statement released Thursday, it warned: "By relentlessly bringing in a number of strategic nuclear assets to the Korean peninsula, the U.S. is gravely threatening the peace and safety and driving the situation to the brink of a nuclear war."