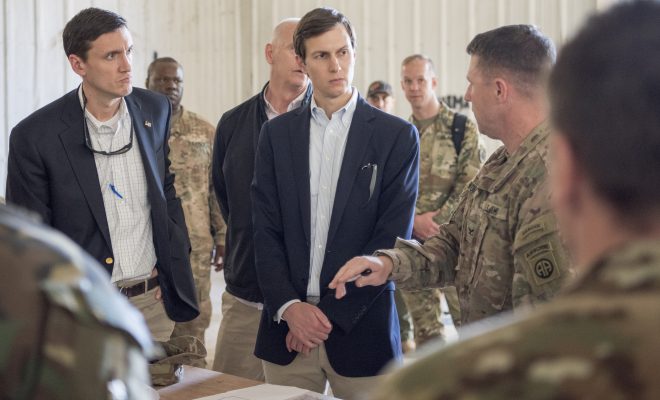 Image Courtesy of Chairman of the Joint Chiefs of Staff; License: (CC BY 2.0)
World
Kushner Heads to Israel, West Bank for First Crack at Peace
By
|
Jared Kushner will attempt to re-ignite peace talks between Israel and the Palestinians while on his trip to Jerusalem and Ramallah this week. He would be laying the groundwork for what President Donald Trump calls the "ultimate deal." The trip is Kushner's first to the region in his capacity as Trump's chief envoy for the peace process.
For over two decades, American diplomats have been flummoxed by the peace process. Successful mediation of a peace agreement between Israel and the Palestinians has eluded even the most experienced and well-respected diplomats. Evidently, experience alone has not worked, leading some experts to believe Kushner's inexperience could be beneficial.
Immediately upon landing in Israel on Wednesday, Kushner visited the parents of Hadas Malka, a 23-year-old Israeli police officer who was stabbed to death by a Palestinian last Friday.
Kushner arrives in Israel, visits family of slain border guard https://t.co/14UkeWSkxj

— The Times of Israel (@TimesofIsrael) June 21, 2017
 Later, Kushner met with Israeli Prime Minister Benjamin Netanyahu at his office in Jerusalem. He was joined by Jason Greenblatt,Trump's other envoy for the peace push, Israeli Ambassador to the U.S. Ron Dermer, and his American counterpart David Friedman. Greenblatt has been particularly exhaustive in his efforts, speaking with representatives from both sides of the conflict. He also regularly live tweets his endeavors in the region:
Spending time w/families who r breaking the #Ramadan fast at Pediatric Cancer Ward @ Makassed Hospital. I pray for the kids' quick recovery. pic.twitter.com/xHIggTxPuk

— Jason D. Greenblatt (@jdgreenblatt45) June 20, 2017
Back at the Kotel for much needed prayer. Inspired by the constant stream of warm wishes for success in bringing peace from others praying. pic.twitter.com/bPTMXVEOeT

— Jason D. Greenblatt (@jdgreenblatt45) June 20, 2017
According to the Associated Press, before the meeting began Netanyahu told Kushner it was "an opportunity to pursue our common goals of security, prosperity, and peace."
On Thursday, Kushner is expected to travel to Ramallah in the West Bank to meet with Palestinian Authority President Mahmoud Abbas and other Palestinian officials.
Deep divisions exist between the negotiating parties, including the status of East Jerusalem and the nearly 500,000 Israeli settlers living in the West Bank. The Palestinians are adamant that East Jerusalem be the capital of their future state, which would largely exist in the West Bank. Israel captured both areas, along with the Golan Heights and the Gaza Strip, which is governed by the terrorist group Hamas, during the 1967 Six-Day War.
Trump's ascendence to the White House initially overjoyed the far-right elements of Netanyahu's governing coalition. His embrace of Israel, a far warmer public posture than former President Barack Obama, led many to believe his administration would be a blank check for settlement building. But he has since made it clear that he thinks settlements are, at least in part, an impediment to peace.
Could Trump's flexibility–his ignorance and inexperience, critics might say–benefit him in a realm that has proven intractable for decades?
"President Trump is at his point of maximum leverage," Daniel Shapiro, the former U.S. ambassador to Israel under Obama, told The Washington Post. "He has gained respect in the region. He is seen as serious. Add to that, his known streak for being unpredictable. This might make it very difficult to say no to him or to a member of his family."
But still, Shapiro warned, "This creates an opening. Not more than an opening. One shouldn't be irrationally exuberant. But the opening is real."