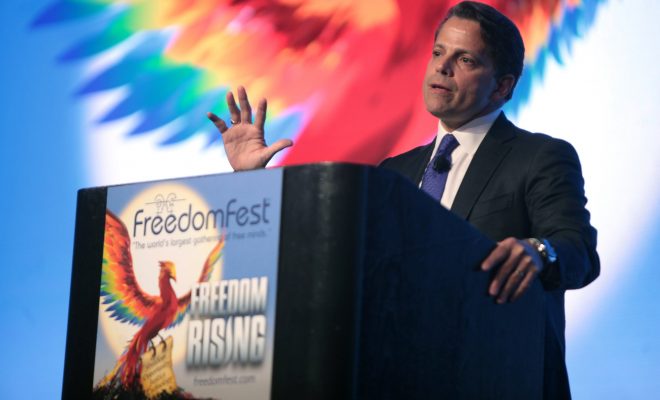 "Anthony Scaramucci" courtesy of Gage Skidmore; License: (CC BY-SA 2.0)
RantCrush
RantCrush Top 5: July 24, 2017
By
|
Welcome to RantCrush Top 5, where we take you through today's top five controversial stories in the world of law and policy. Who's ranting and raving right now? Check it out below:
Today, President Donald Trump's son-in-law and close adviser, Jared Kushner, released his prepared remarks to the Senate Intelligence Committee. The meeting will be behind closed doors and Kushner will not be under oath when he testifies–although it is illegal to lie to Congress regardless. According to the prepared remarks Kushner released prior to his testimony, he will be claiming that he was in no way involved with any sort of Russian collusion during the 2016 election.
At particular issue is the 2016 meeting between Kushner, Donald Trump Jr., and a Kremlin-connected lawyer, among others. Emails released by Trump Jr. reveal that the lawyer claimed to have information about Trump's opponent Hillary Clinton; Kushner claims that he had no idea what the meeting was going to be about. Kushner also claimed in his prepared remarks that his failure to disclose certain meetings and information on his SF-86–a security form–was based on inexperience and miscommunication with his staff. But not everyone is buying Kushner's excuses.
Just because Jared Kushner tried to set up a back channel with the Russians doesn't mean he tried to set up a back channel with the Russians

— Jim Gaffigan (@JimGaffigan) July 24, 2017