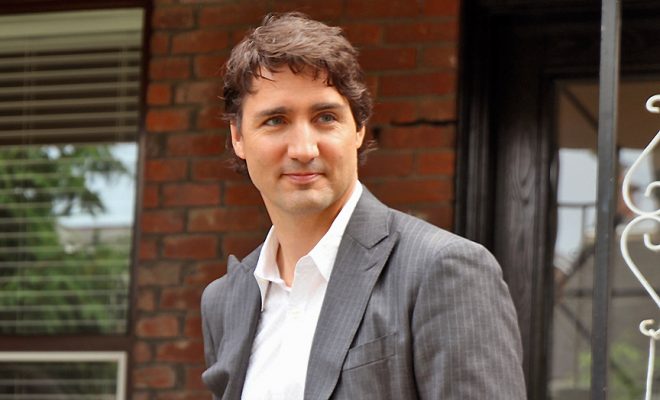 "Justin Trudeau, MP" courtesy of Alex Guibord; License: (CC BY 2.0)
World
Keystone XL Revival Puts Canadian PM Justin Trudeau in a Bind
By
|
President Donald Trump revived the Keystone XL pipeline on Tuesday, creating a quandary for Canadian Prime Minister Justin Trudeau. How does he balance support for the climate, a cornerstone issue for him, while also supporting a job-creating project that environmental groups–in Canada and the U.S.–generally oppose? This is a question that had the usually tranquil leader a tad flustered during a town hall meeting at the University of Calgary on Tuesday evening.
A man in a "Make America Great Again" cap told Trudeau, who supports the pipeline project, but signaled the need to "phase out" drilling in Canada's oil sands, he is either a "liar" or "confused." Trudeau replied: "If you know the oil sands, sir, you know the kinds of innovation, the kinds of advances, the kind of high technology, and research that's being done, right here at the University of Calgary."
This is the balancing act that Trudeau has found himself performing in a country rich in oil reserves yet with an equally rich tradition of environmental protection. A former executive at TransCanada, the company that is building the Keystone XL pipeline, told The New York Times the prime minister must strike a delicate balance. "The country needs to find a balance between a credible carbon policy and seizing this economic opportunity," Dennis McConaghy said.
Trump revived the pipeline with an executive order on Tuesday. He promised to "renegotiate" the contract with TransCanada. While there is a long way to go before construction on the pipeline resumes, Trump's executive action signals a new U.S. stance on the issue. President Obama, who initially supported parts of the pipeline, shelved the project in 2015. The pipeline would transfer 830,000 barrels of crude oil per day from the Alberta oil sands to Nebraska, where existing pipelines would shuffle it to refineries in the Gulf of Mexico. Thousands of temporary jobs would be created if construction resumes.
Trudeau seems confident the project is a responsible way to bolster Canada's economy while protecting its environment. "I have repeatedly said that yes, the responsibility of any Canadian prime minister is to get our resources to market and yes, that includes our oil-sands fossil fuels," Trudeau said at Tuesday's town hall. "We need to get those to market. I've also said we need to do that in a responsible, sustainable way. You cannot separate what's good for the environment and what's good for the economy."