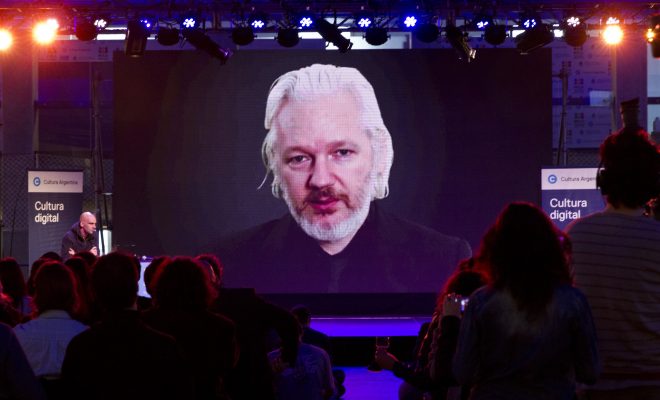 Image courtesy of [Ministerio de Cultura de la Nación Argentina via Flickr]
World
Swedish Court: Detention Order for Julian Assange Stands
By
|
A Swedish court decided on Friday that the arrest warrant for Wikileaks founder Julian Assange still stands. He was accused of rape during a visit to Sweden back in 2010 and remains in the Ecuadorian Embassy in London. Assange denies the rape allegation and has refused to leave the embassy out of fear that he will be extradited to the United States where he could face espionage charges for documents leaked by his website.
Originally from Australia, Julian Assange visited Sweden in the summer of 2010 to give a lecture. He spent time with two Swedish women and over the course of a couple days he spent the night with each of them. Opinions diverge over what happened next. According to the women, what started out as consensual sex ended up being non-consensual. But Assange denies any wrongdoing and claimed he was shocked to hear the accusations.
Some people believe the women are part of a bigger political scheme to have Assange arrested. International media has criticized the strict Swedish rape laws, calling the country a "feminist dystopia" for how easy it is to be convicted while mocking the women for being upset that Assange dated more than one person at the same time. But the women's testimonies, which were obtained by the Guardian, indicate that the case is more complicated than that. Assange allegedly attempted to have sex with both women without a condom, and although he eventually did use one, one of the women alleges that he intentionally ripped it before they had sex. The other woman claims she woke up and realized he was having unprotected sex with her, against her will. According to the Associated Press, allegations of sexual molestation and unlawful coercion were dropped due to the statute of limitations in Sweden, but the rape charge will remain until 2020.
In response to the ruling, Assange's Swedish defense lawyer Per Samuelson told the Associated Press, "We are naturally disappointed that Swedish courts yet again choose to ignore Julian Assange's difficult life situation. They ignore the risk that he will be extradited to the United States."
Swedish prosecutors said they have not been in contact with the United States about Assange's case, and if a third country asks to have Assange extradited it would need permission from Britain. Prosecutors are trying to move forward on the case by interrogating Assange at the embassy with the help of an Ecuadorean official who will question him on October 17.
Yesterday, the Wikileaks Twitter account said that Assange would turn himself into the United States if authorities release Chelsea Manning.
If Obama grants Manning clemency, Assange will agree to US prison in exchange — despite its clear unlawfulness https://t.co/MZU30S3Eia

— WikiLeaks (@wikileaks) September 15, 2016
Manning is currently serving a 35-year prison sentence for leaking classified materials. She ended her hunger strike earlier this week after the U.S. Army decided to allow her to undergo gender transition surgery.