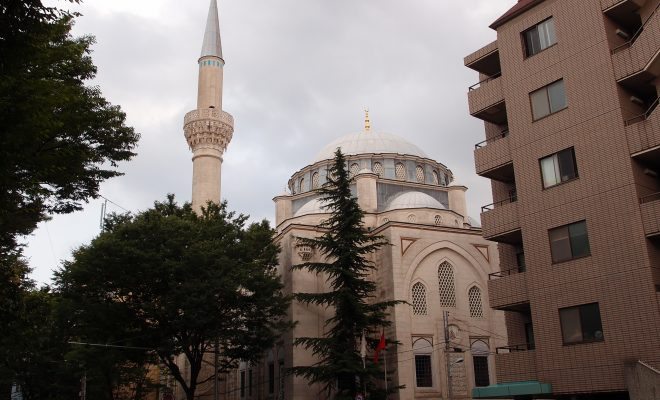 "Tokyo Camii" Courtesy of [Guilhem Vellut via Flickr]
World
Japan Keeps a Watchful Eye on Its Nearly 15,000 Muslims
By
|
Tucked away in one of Tokyo's busiest districts is an uncommon structure in a city dominated by Shinto shrines and Buddhist temples: the powder blue domes and minaret of Japan's largest mosque, Tokyo Camii. Japan, a nation of Shintoism–an ancient folk religion–and Buddhism, is home to roughly 15,000 Muslims and 50 or so mosques. Leaked police files from 2010 revealed an extensive, country-wide surveillance program that affected 89 percent of Japan's Muslims, or 12,677 individuals. A few weeks ago, the Supreme Court dismissed a second appeal by 17 Japanese Muslims who were affected by the blanket policing program.
Japan's policing of its Muslim community first came to light in 2010, when the leaked documents showed that police departments kept tabs on the vast majority of Japanese Muslims. Police recorded their names, a physical description, and personal relationships. Each profile also contained a section titled "suspicions." Additionally, police around the country surveilled mosques, halal restaurants, and "Islam-related" organizations. A group of 17 Japanese Muslims took legal action after they found out the extent of the Japanese police's grip on their lives. The first case was brought to the Tokyo District Court in 2014. The plaintiffs argued that the surveillance program infringed on their constitutional rights to privacy, equal treatment, and religious freedom.
The court initially ruled in favor of the government. But as a concession, and as a consequence of the leaked documents from 2010, the court offered the plaintiffs the equivalent of $880,000. And on May 31, Japan's highest court shot down the plaintiffs' second appeal, but agreed on the financial compensation. To Edward Snowden, the former National Security Agency contractor who blew the cover off of America's extensive surveillance program, Japan's zealous supervision of its Muslims is born of fear.
"People of the Islamic faith are more likely to be targeted," he said from Moscow, Russia, where he has lived since fleeing the U.S. in 2013. He spoke via a video feed at a symposium on government surveillance in Tokyo on June 4. He added: "Simply because people are afraid." Snowden mentioned that in Japan, a place that is hardly ever mentioned as a target of terrorists, the origin of that fear should be scrutinized. After all, the country–one of the world's safest–last saw a terrorist attack in 1995. In the spring of that year, Aum Shinrikyo, a fanatical doomsday cult, released sarin gas into the Tokyo subway system. 13 people died, and dozens more were injured.
So as the West and the Middle East are working out the best ways to repel very real terrorist threats, Japan is applying blanket surveillance techniques on nearly all of its Muslims. Junko Hayashi, one of the plaintiffs' lawyers, worries how this will affect the next generation of Japanese Muslims. "It's a really, really difficult thing to deal with, especially for the kids growing up here," Hayashi said. "The police have been dealing with them as future terrorists."