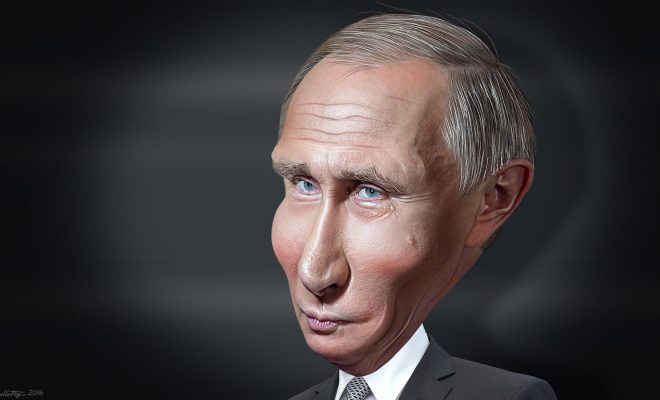 Image Courtesy of DonkeyHotey; License: (CC BY-SA 2.0)
World
Russia Outlaws Images Depicting Putin as a Gay-Friendly Clown
By
|
He is often caricatured as an iron-fisted, shirtless, horseback-riding, murderous regime-supporting paragon of machismo. But Russians also have a sense of humor. So in 2013, during gay rights protests, an image of Russian President Vladimir Putin made up as a clown with mascara, long eyelashes, and lipstick became a popular symbol of resistance.
On Wednesday, Russia officially banned the image, calling it a form of "extremism." It is illegal to share the image on the internet, because it implies "the supposed nonstandard sexual orientation of the president of the Russian Federation." Naturally, Twitter had a field day:
Sharing this illegal picture of Putin as a gay clown. #ThingsIWontApologizeFor pic.twitter.com/KiaIbJW6nX

— Allensaurus Rex (@allenrw81) April 6, 2017
Oh no! It's Putin the Gay Clown!!! Why doesn't Putin like this image, he looks so pretty!#theresistance #russiagate pic.twitter.com/dVf75py21c

— Queen du Tout (@Gravityisback1) April 6, 2017
It is now illegal in Russia to share an image of Putin as a gay clown.

Guess what motherf*ucker America is still a free nation… for now. pic.twitter.com/xsG0Nma7KA

— Impeach Donald Trump (@Impeach_D_Trump) April 6, 2017
In the summer of 2013, Russians took to the streets to protest Russia's homophobic laws and repression of the gay community. Wielding the Putin-as-a-pretty-clown meme, protesters opposed Russia's new laws banning the propagandizing "nontraditional sexual relations" to children. Russian officials beat and arrested scores of protesters.
The LGBT community in Russia suffers from a variety of oppressive, draconian laws. In January 2015, a law passed that made it illegal for transgender people, or others with "disorders," to operate a vehicle. In October of that year, the Russian government proposed a law that would deem public displays of non-heterosexual orientation–kissing or holding hands, for instance–a criminal act.
While the new Kremlin directive does not explicitly name a single image, it casts a wide net, banning pictures of a Putin-like figure "with eyes and lips made up." One Russian news outlet suspects a meme of Putin and Prime Minister Dmitry Medvedev, both with make up, clutching a bouquet of flowers, is the banned image:
В РФ признали экстремистским плакат с накрашенными Путиным и Медведевым https://t.co/HhJvROd6Bl

— Gordonua.com (@Gordonuacom) April 5, 2017
To clear up any confusion, this Twitter user compiled all of the potentially banned images in one handy tweet:
Did anyone get the meme-o on which gay-clown images #Putin has banned in Russia? Was it any of these? #stophomophobia pic.twitter.com/ljrUm7Pmo8

— Jason ❄️'Toole (@jayrotoole) April 6, 2017