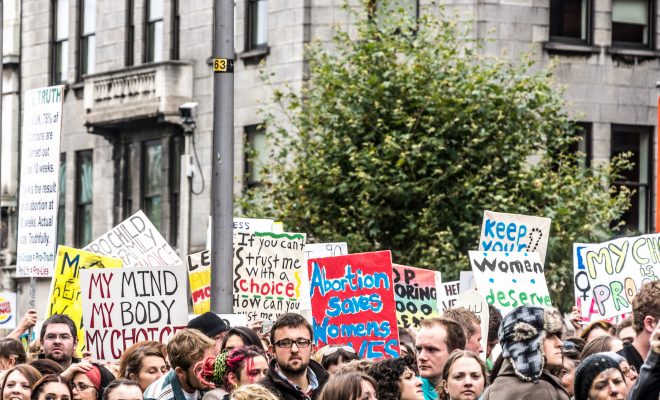 "Pro-Choice Rally in Dublin (International Day Of Action)" courtesy of [William Murphy via Flickr]
World
How Irish Women Buy Pills Online To Get Around Abortion Laws
By
|
It may be hard to imagine that in 2016 having an abortion is still illegal in a country as developed as Ireland. As a traditionally Catholic country, it has strict laws regulating abortion, with the exception of instances in which the procedure would save the mother's life. New data illustrates the way in which many Irish women seek abortions despite the country's particularly restrictive laws.
To clarify: the Republic of Ireland is its own country, while Northern Ireland is a part of the United Kingdom–along with England, Scotland and Wales–which has more relaxed laws around abortion. In the U.K., the Legal Abortion Act of 1967 made abortion legal before week 24 of a pregnancy. But that law does not apply to Northern Ireland, which criminalizes abortion like the Republic of Ireland. Abortion is punishable with up to a 14-year prison sentence in Ireland and up to a life sentence in Northern Ireland.
In April a court in Northern Ireland heard a case in which a young woman from Belfast bought drugs online to terminate her pregnancy. She couldn't afford to go to England to perform a legal abortion, so she saw the pill as her only option. Her roommates reported her to the police and she was ultimately given a suspended sentence. Had she lived in another part of the U.K., she could have gotten an abortion legally–and between 2010 and 2012, roughly 15,500 Irish women went to England or Wales to do so. Instead, this woman found herself guilty of a criminal offense because she couldn't afford to travel.
A recent analysis of data from Women on Web–a telemedicine group that provides abortion pills and instructions to how to take them–shows that 5,650 women from Northern Ireland and the Republic of Ireland bought these pills between 2010 and 2015. Most of the women in the study said taking the pills was the right decision for them.
The most commonly cited reason for having an abortion was that the women were not able to have a child at that point in their life, closely followed by not having enough money to raise a kid. Most of the women in the study reported that they became pregnant due to the failure or misuse of contraceptives. About 50 percent of the women were aged between 25 and 35. Three-quarters of the women were pregnant for seven weeks or less at the time they took the pills.
It is not that uncommon for birth control pills to fail. In fact, there is a 5 percent risk of becoming pregnant even if you take your pill every day, according to the American Pregnancy Association. Finding oneself with an unplanned and unwanted pregnancy while also not having the financial means to take care of a child is a nightmare for many.
"Abortion is a criminal offense in Ireland and if women are accessing these dangerous pills online and have an adverse reaction that could endanger their life, who will take responsibility?" Bernadette Smyth, a member of the pro-life group Precious Life, told the BBC. She added that abortion not is the answer. But then, what is?
Having abortion rights in Ireland will not take any anti-choicers' rights away. The whole point is the spectrum of options, for everyone.

— Claire Brophy (@ClaireBrophy) October 17, 2016
As the debate in Ireland continues opposition to the current abortion laws may be growing. Professor Abigail Aiken, who led the study, said to the BBC that the current law dates back to 1861 and harms women by creating a climate of stigma, shame, and isolation. She also said that groups like Women on Web make the process of having an abortion much less stressful for women. She said:
I think it really demonstrates that women can make the best choice for themselves when it comes to their own reproduction. The only negative thing about this is that women reported they had to do it against the law, and they went through considerable stress and anxiety and secrecy and isolation and shame.