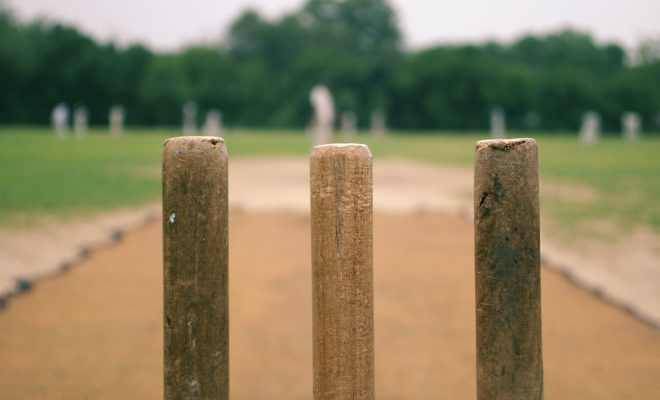 "Cricket Wickets" courtesy of Chris Schmich; license: (CC BY-SA 2.0)
World
Indian Police Arrest at Least 15 for Celebrating Pakistan's Cricket Victory
By
|
Police in India have arrested at least 15 people for celebrating too vividly after Pakistan beat India in a cricket match that took place in London on Sunday. The two neighboring countries have traditionally had a hostile and competitive relationship, and that also extends to the sports world. The men were arrested on suspicion of sedition, a charge that could carry with it ineligibility for government jobs or even life in prison.
Most arrests were made in the state of Madhya Pradesh in central India, after a neighbor called the police complaining about cricket fans who were shouting anti-India slogans and lighting firecrackers. Police seized 15 men aged 19 to 35 on charges of sedition and criminal conspiracy in the Burhanpur district.
"They expressed hatred toward India and friendship toward Pakistan. They are charged for sedition and criminal conspiracy," said Ramasray Yadav, a police officer who took part in the arrests. However, he also said the men shouted slogans expressing their love for India while in detention.
15 Muslim men arrested in India for celebrating Pakistan's victory over India in the Champions Trophy cricket final https://t.co/8xLdAgh5UT pic.twitter.com/e0EGmcZz9J

— Al Jazeera English (@AJEnglish) June 21, 2017
The neighbor who called in the complaint that led to the arrest of the 15 men is Hindu, while all the suspects are Muslim. And India is not free from Islamophobia. Muslims are a minority there, and many say they are experiencing an increase in violence and hostility, targeted because of their religion. Leaders of the ruling party BJP have tried to paint Muslims as violent and dangerous and accused them of scheming to rid India of Hindus.
Recently there have been several violent attacks on Muslims after people have accused them of killing, selling, and eating cows. Cows are holy in India, so slaughtering them is illegal. What Human Rights Watch calls self-appointed "cow protectors" have made it their task to crack down on Muslims suspected of stealing cows.
Since May 2015, at least 10 Muslims, including a 12-year-old boy, have been killed because of "cow protector"-related violence. On April 21, a mob of people brutally attacked a nomad family, including a nine-year-old girl and an elderly man. After their assault they set the family's home on fire.
Pakistan, on the other hand, is mainly Muslim. Tensions between Pakistan and India turned so bad a few years ago that the annual cricket competitions had to be cancelled. Scheduled peace talks have been repeatedly abandoned for the past three years, and there seems to be no end to the conflict over the disputed area of Kashmir.