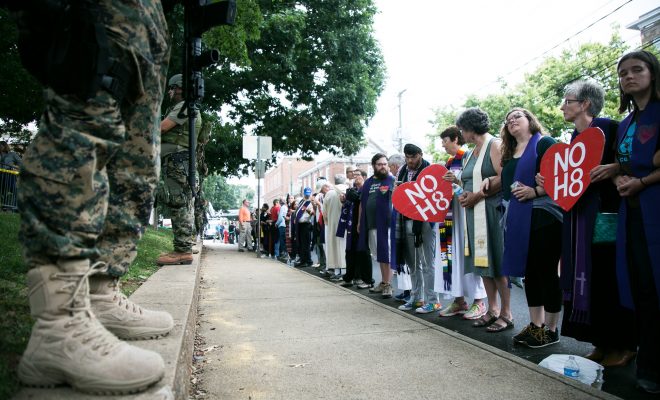 Image courtesy of Karla Cote; License: (CC BY-ND 2.0)
RantCrush
RantCrush Top 5: August 14, 2017
By
|
Welcome to RantCrush Top 5, where we take you through today's top five controversial stories in the world of law and policy. Who's ranting and raving right now? Check it out below:
This weekend, a white supremacist protest in Charlottesville, Virginia, turned violent. The march began on Friday night, with protesters carrying torches, Nazi flags, and chanting a Nazi slogan. On Saturday, a lot of counter-protesters arrived at the scene. On Saturday afternoon, a car drove straight into the crowd of counter-protesters, killing one woman and injuring over 30 others. The driver was later identified as 20-year-old Ohio native James Alex Fields Jr. He has been charged with murder. Governor Terry McAuliffe declared a state of emergency Saturday evening.
Alleged driver of car that plowed into Charlottesville crowd was a Nazi sympathizer, former teacher says https://t.co/LWgW6UTy3e

— Washington Post (@washingtonpost) August 13, 2017
President Donald Trump finally commented from his New Jersey golf club, saying that he condemns the display of violence "on many sides." But this very brief and vague comment was heavily criticized for not condemning the brazen white supremacy on display.
The Department of Justice has opened a civil rights investigation into the violence and even Attorney General Jeff Sessions made a more emphatic statement than the president. "The violence and deaths in Charlottesville strike at the heart of American law and justice. When such actions arise from racial bigotry and hatred, they betray our core values and cannot be tolerated," he said.
If ISIS rammed a car into a crowd this would be labeled quickly & logically. Charlottesville – call it what it is, domestic terrorism.

— Eric Holder (@EricHolder) August 13, 2017