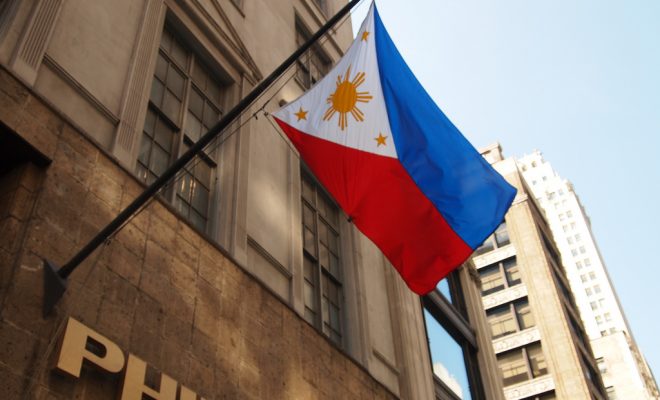 "Philippine Flag" courtesy of Marlon E; license: (CC BY-SA 2.0)
World
Philippine Lawmakers Dismiss Impeachment Complaint Against President Duterte
By
|
In March, Filipino Congressman Gary Alejano filed an impeachment complaint against President Rodrigo Duterte, accusing him of being responsible for the mass killings of civilians in the country. But on Monday, lawmakers dismissed the complaint, claiming that Alejano could have no "personal knowledge" about these allegations.
Duterte has, in an attempt to crack down on drug trafficking, presided over a campaign of extrajudicial killings. Police statistics show that more than 4,000 people have been killed by police in drug raids, or during drug-related conflicts, since he came to power last June. But even so, agencies and institutions are hesitant to do anything.
"Institutions are just unwilling and are unable to prosecute the president. What is the people's recourse? Where will you complain? We will look for other ways to seek justice," Alejano said. A majority in the country's House of Representatives favors Duterte and this decision blocks additional impeachment cases until next March.
Philippine lawmakers struck down an impeachment complaint filed by Rep. Gary Alejano against President Duterte for crimes against humanity. pic.twitter.com/nqL0rzTrcK

— AJ+ (@ajplus) May 15, 2017
In April, a Filipino lawyer filed a complaint against Duterte in The Hague's International Criminal Court in the Netherlands. Jude Josue Sabio alleged the same crimes as Alejano but went further back in time. More than 9,400 people have allegedly been killed since Duterte became the mayor of Davao City in 1988. He wrote:
The situation in the Philippines reveals a terrifying, gruesome and disastrous continuing commission of extrajudicial executions or mass murder from the time President Duterte was the mayor of Davao City.
Sabio represents two Filipino men who claim they were part of Duterte's so-called Davao Death Squad. The group set out to kill drug dealers and criminals guilty of minor crimes. The president and his spokespeople deny all wrongdoings and called the reports "false news."
Duterte's many contentious statements include comparing himself–favorably–to Hitler, calling then-president Barack Obama a "son of a whore" and calling United Nations experts "stupid." He regularly curses or uses profanities in public and has been aggressively resistant to criticism. But despite those comments, he was elected in a landslide victory precisely because of his promise to crack down on drug users and his constituents don't seem to be complaining. An independent poll from late March showed that three-quarters of respondents still believe Duterte to be trustworthy, while 78 percent approved of his performance as president.