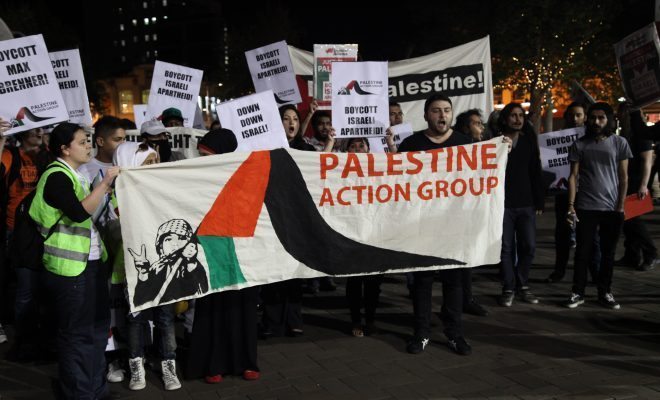 Image courtesy of [Kate Ausburn via Flickr]
World
New York Governor Andrew Cuomo Bans Boycotts Against Israel
By
|
New York Governor Andrew Cuomo declared Sunday that he would sign an executive order to divest funds from any company or organization in his state participating in the Boycott, Divestment, or Sanctions (BDS) movement, a global campaign aimed at ending the Israeli occupation of Palestine through economic pressure. The Palestinian-led movement targets corporations and products that contribute to the violation of Palestinian rights, and calls for sanctions to be placed on the Israeli state.
Cuomo's announcement took place Sunday at the Harvard Club in New York, the same day that the Governor participated in the Celebrate Israel parade along with Mayor Bill de Blasio, Senator Chuck Schumer (D-NY), and other public figures, as well as celebrities, organizations, and companies. Cuomo followed his announcement with a series of tweets in which he harshly criticized the movement and its participants:
We made a unity trip to Israel because they were under attack. Today, Israel is under attack on a different level. https://t.co/O3oXmEdnXp

— Andrew Cuomo (@NYGovCuomo) June 5, 2016
This BDS movement is an economic attack and generating a corporate enemy to Israel. We cannot allow that to happen.

— Andrew Cuomo (@NYGovCuomo) June 5, 2016
I am signing an Executive Order that says very clearly we are against the BDS movement. If you boycott Israel, New York will boycott you.

— Andrew Cuomo (@NYGovCuomo) June 5, 2016
Why a state government feels the need to get involved in one of the most complex foreign policy issues of our time is unclear, but Cuomo's actions highlight the deep roots of the U.S.-Israel alliance, in which an "attack" on Israel is treated as an attack toward the U.S. The official executive order declares that New York and Israel "enjoy a special historical relationship and share a commonly forged cultural bond," and that the state "stands firmly with Israel."
The order also declared the governor's intentions to compile a blacklist of sorts, targeting companies and institutions that have participated in BDS activities and threatening to divest if they are proven to have participated in the movement. Once an organization has been added to the publicly-available list, it's not easy to be removed: it must submit "written evidence" demonstrating that it no longer participates in BDS activities, and a "good faith" determination will be made by the Commissioner of General Services. The punishments make it nearly impossible for any organization to get involved in the BDS movement without facing major repercussions.
The order is already being criticized by many for being a blatant violation of free speech; Palestine Legal calls it a "dangerous precedent reminiscent of McCarthyism."
The list of companies and organizations participating in BDS will be compiled in the next 180 days, according to the order. Once released, it will undoubtedly have a major impact on a large number of businesses throughout the state.