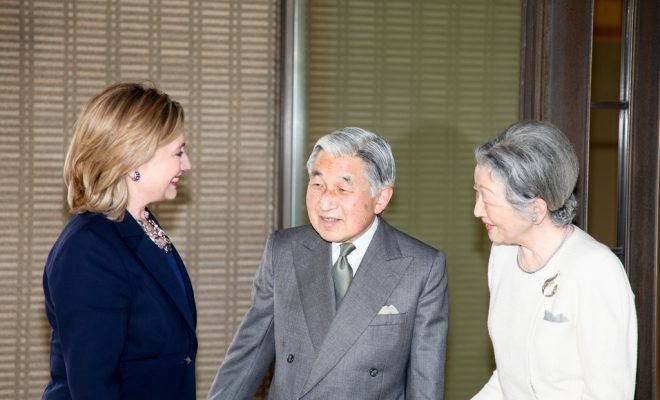 Image Courtesy of [StateHubs via Flickr]
World
Will the Japanese Emperor Eventually Step Down Over Health Concerns?
By
|
It has been nearly 200 years since a Japanese emperor abdicated the throne, that is, renounced his duties prior to death. But in a pre-recorded address broadcasted on state television across Japan on Monday, Emperor Akihito, 82, foreshadowed doing just that at some point in the future.
"Fortunately I am now  in good health," said Akihito, the 125th emperor of the Chrysanthemum Throne, a hereditary line that goes back to at least A.D. 500, perhaps even further, making it the oldest ruling family line in the world. "However, when I consider that my fitness level is gradually declining, I am worried that it may become more difficult for me to carry out my duties as the symbol of the state."
Since 1947, after Japan's World War II defeat, the emperor has been officially humanized and stripped of political power. Pre-1947, the emperor–tenno in Japanese, or "heavenly sovereign"–was recognized as divine, which legitimized a dynastic claim to the throne. But as a part of its WWII surrender, Japan had to withdraw the emperor's divine claim, which is reflected in the 1947 constitution: "The Emperor shall be the symbol of the State and of the unity of the People, deriving his position from the will of the people with whom resides sovereign power."
Japan in many ways at a standstill, an agonizing one, for weeks. By retiring, Akihito could avoid that fate, live out final years in peace.

— Hiroko Tabuchi (@HirokoTabuchi) August 8, 2016
Monday's 10-minute speech marked Akihito's second public address since he became emperor in 1989 when his father, Hirohito, the leader of imperial Japan during WWII, passed away. Akihito's first public address came in March 2011, when he urged Japan to stand together after the devastating tsunami and subsequent nuclear disaster in Fukushima, a town in northeast Honshu, Japan's largest island.
According to Imperial House Law, Japan's judicial code regarding the succession of the imperial line and the emperor's powers, Akihito's eldest son, Crown Prince Naruhito, 56, is set to be the next emperor should Akihito abdicate or perish. Akihito's second oldest, Prince Akishino, 50, is second in line to the throne, and Prince Akishino's 9-year-old son is third. Imperial House Law dictates that the emperor "shall be succeeded to by a male offspring in the male line belonging to the Imperial Lineage." The last empress of Japan died in 1771. There have been eight female rulers in total since 585 B.C., when Emperor Jimmu founded modern Japan.
Japan's constitution does not allow an emperor to abdicate his duties while alive, so if Akihito were to relinquish his seat, Parliament would have to approve a law change. Prime Minister Shinzo Abe seemed open to that possibility after Akihito's speech was broadcast: "I think we have to thoroughly think what we can do to accommodate his concerns, taking into consideration the emperor's age and the current burden of official duties," Abe said.