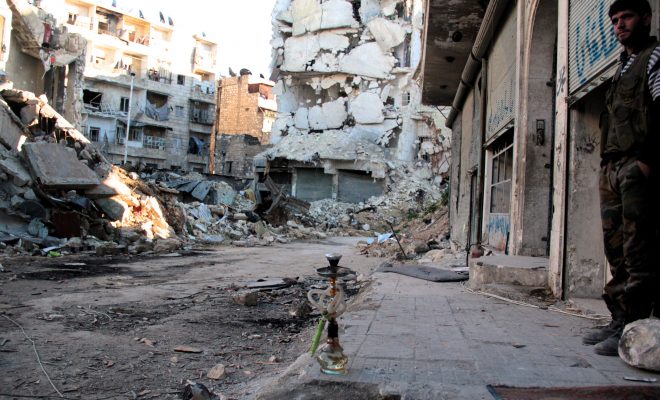 Image courtesy of [Foreign and Commonwealth Office via Flickr]
World
Syrian Regime Hits Aleppo with Chlorine Bombs; Dozens Hospitalized
By
|
At the few remaining hospitals in Aleppo, Syria on Tuesday, men in pink gowns and nearly naked children gasped into oxygen masks, their lungs desperate for air, eyes wide with confusion. This ghastly scene followed what aid groups and witnesses say was a chemical attack by the Syrian government in the rebel-held eastern half of the city.
While reports of the attack could not be independently verified by media outlets, a handful of aid groups and hospital workers in Aleppo said helicopters flew over Sukkari, an eastern suburb, and dropped barrels of chlorine. Upwards of 100 people–including dozens of children–were hospitalized for treatment. There have been two reported deaths, and though most of the victims were discharged after a few hours, at least ten remain in intensive care.
This represents the third instance in which Syrian President Bashar al-Assad has dropped chlorine gas bombs on his own people. The previous two came in 2014 and 2015, a recent UN investigation concluded. All three incidents occurred after a U.S.-led 2013 deal that supposedly stripped the Syrian regime of its chemical arsenal. Chlorine was not included in the deal, however, because it is considered a dual-use chemical, as it has applications other than chemical weaponry.
The attack came while leaders of the various Syrian opposition groups met in London to discuss a political end to the five-year civil war that has killed hundreds of thousands and displaced millions. The UN report, published in late August, also concluded that the Islamic State used chemical weapons–sulphur mustard gas–in Syria.
More than 120 people, including 10 women and 37 children, were sickened in a chlorine gas attack in Aleppo, Syria. pic.twitter.com/qgFaOBD1fl

— New York Times Video (@nytvideo) September 7, 2016

"There are more actors today in Syria with the availability of the substances and the ability to mix them and use them, if they so choose, as chemical weapons; and this is something very worrying," said Virginia Gamba, head of the three-member UN Joint Investigative Mechanism that confirmed chemical weapons use in Syria.
First used on battlefields during World War I, chlorine can lead to shortness of breath, chest tightness, coughing, skin, and eye irritation. In extremely high doses, chlorine can be fatal. The site of Assad's latest chemical airdrop, Aleppo, has been torn apart in recent months, its citizens trapped between rebel and government-held areas. International aid groups are calling for humanitarian corridors for people to flee the city safely.
Meanwhile, while meeting in Hangzhou, China for the G-20 summit, President Obama and Vladimir Putin of Russia–a key ally of Assad–failed to reach a cease-fire agreement.