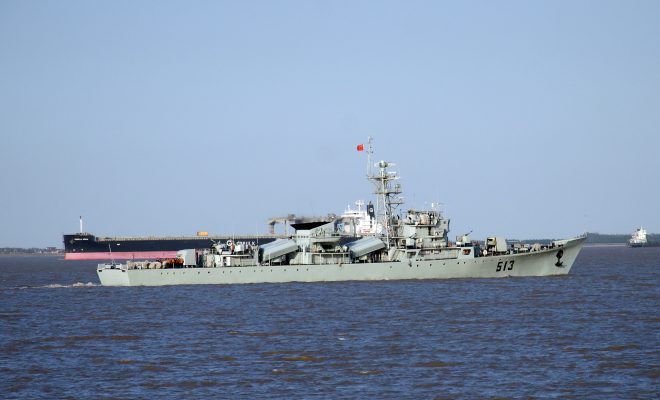 Image courtesy of Charles W Clark; license: (CC BY 2.0)
World
Pentagon to China: Please Return Our Underwater Drone
By
|
On Friday, the Pentagon demanded the return of a U.S. underwater drone that a Chinese Navy ship grabbed from the South China Sea on Thursday. The American ship USNS Bowditch had deployed the drone to do research. Staff onboard the American survey ship had noticed that the Chinese ship had been following them for days by the time they fished the $150,000 drone out of the water. The U.S. staff then tried to call the Chinese via radio, but got no answer.
The incident occurred about 40 miles off the coast of the Philippines. It is unknown why China would simply steal the American research drone from the water. It was used to collect oceanographic data, and map the sea floor, water salinity, and temperature. As the purpose was biological research, the crew is made up of civilian mariners and scientists. It didn't contain any sensitive information and was part of an unclassified program, said Pentagon spokesman Captain Jeff Davis. He added:
The UUV [unmanned underwater vehicle] was lawfully conducting a military survey in the waters of the South China Sea. It's a sovereign immune vessel, clearly marked in English not to be removed from the water–that it was US property.
China seized U.S. Navy Ocean Glider Unmanned Underwater Vehicle ~50nm Subic Bay https://t.co/UxbYQmJ0jY

— M. Taylor Fravel (@fravel) December 16, 2016
On Friday the Pentagon issued a formal protest to China, demanding the return of the drone. Officials said that they were trying to determine whether this was a spontaneous decision by the Chinese seamen that spotted the drone, or a deliberate strategy from senior Chinese leaders. This is likely to further complicate the relationship between the U.S. and China. There are also concerns that the seizure could be related to Donald Trump's phone call with Taiwan earlier this month.
In the beginning of December, Trump spoke on the phone with Taiwan's President Tsai Ing-wen, which marked a reversal of the customary U.S. stance on Taiwan. The island wants to be independent from China, while China sees Taiwan as a breakaway province. So normally, the U.S. sells weapons and other items to Taiwan, but doesn't do much more. That phone call didn't exactly please Chinese leaders. Then on Thursday, an American think tank declared that China has been building weapons like anti-missile and anti-aircraft systems on its man-made islands, despite earlier claims that the islands are exclusively for civilian use. As Trump takes office, it will be interesting to see how the American-Chinese relationship changes.