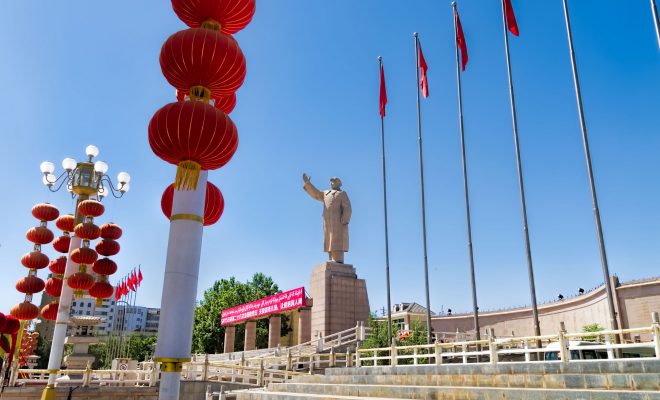 Image courtesy of Dan Lundberg; license: (CC BY-SA 2.0)
World
China Bans Islamic Baby Names, Beards, and Veils in the Xinjiang Region
By
|
In a crackdown on religious freedom, the Chinese authorities have banned Islamic baby names and other religious symbols in the mainly Muslim region of the country, Xinjiang. About half of China's 23 million Muslims live in this region, which is one of the most militarized in the country due to violent conflicts that authorities blame on religious extremists. Xinjiang is home to a Muslim minority group called the Uighurs.
Now Chinese officials have said that "religious" names like Islam, Quran, Saddam, and Mecca are prohibited, as such names could "exaggerate religious fervor." Children that are given these names will not be eligible for household registration, which is what gives citizens access to social services, healthcare, and education in China.
The new rules follow other restrictions issued last month by the Xinjiang authorities that ban men from wearing an "abnormal beard." Specific cities in Xinjiang already had bans in place prohibiting women from wearing face veils in public spaces like airports or train stations, but now the ban will apply to the whole region.
Sophie Richardson, China director at Human Rights Watch, called the actions by the Xinjiang authorities "blatant violations of domestic and international protections on the rights to freedom of belief and expression." She said that officials are punished by the state if they are too lenient on these "crimes" or other actions deemed inappropriate. One official was reprimanded for complaining about the new rules to his wife through a messaging app. Another one was fired from her job for having her wedding ceremony at home and not at a location approved by the government.
China bans Islamic baby names in Muslim majority Xinjiang province https://t.co/cWsITdTHeL pic.twitter.com/13i04R9yll

— Aüd™ (@CodeAud) April 25, 2017
There have been a number of violent incidents in Xinjiang in recent years that have been blamed on Muslim extremists. In 2013, 35 people, including 16 Uighurs, were killed in a confrontation between rioters and police. State media claims a group of religious extremists attacked police officers after one of their group members was arrested. Police killed 11 of them and labeled the act a terrorist attack.
That incident made many worry that the violence of 2009 would be repeated, when protests led to the deaths of at least 197 people. Many killed were Han Chinese, the main ethnic group in China. And in 2015, more than 50 people died in a knife attack at a coalmine in northwestern Xinjiang. State media claimed that one of the suspects said he had been carrying out a jihad.
But human rights experts say that the Chinese government's harsh crackdown on Muslims will only deepen the Uighurs' resentment. A spokesman for an exiled group of Uighurs, Dilxat Raxit, said that the violence was sparked by the Chinese government's indiscriminate detentions of Uighurs. Others say that the government strongly exaggerates the level of organization behind protests and violence. "If the government is serious about bringing stability and harmony to the region as it claims, it should roll back–not double down on–repressive policies," said Richardson.