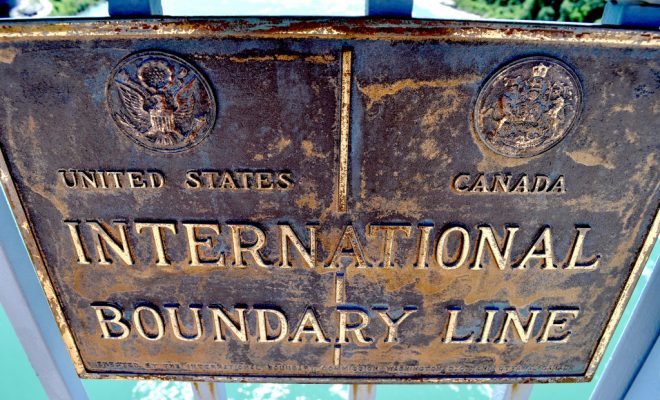 "US Canada border" courtesy of Chris Connelly; license: (CC BY 2.0)
World
Canadian Journalist Ed Ou Detained and Denied Entry to the U.S.
By
|
When Canadian journalist Ed Ou headed to North Dakota recently to cover the pipeline protests at Standing Rock, he didn't expect the drama to start as soon as he reached the U.S. border. But border officials decided to detain him for over six hours and confiscate his cellphones, something that is uncomfortable for anyone, but critical for a journalist. He compared having the contents of his phones scrutinized with a doctor giving up confidential information about his patients. If Ou's sources who have given information on the condition of anonymity are revealed, their lives could potentially be in danger.
The U.S. border agent officers asked Ou to tell them how and why he had traveled to every single country he has visited for the past five years, and if he had seen anyone die. Ou has spent 10 years covering the Middle East, Africa, and Central Asia, which could explain the unusual questions. The agents asked to see his phones to make sure he was "not posing next to any dead bodies." When he refused, explaining that he is a journalist and needed to protect his sources, they simply took them anyway. When he got the phones back later, it looked as if the SIM cards had been tampered with. Agents also photocopied pages from his personal diary. In the end, Ou was denied entry into the U.S. and put on a plane back to Canada, with no other explanation than that his name matched that of "a person of interest." One officer said that his refusal to cooperate with the phones "did not help."
The United States Customs and Border Protection declined to comment on the event. But in a statement it said, "Keeping America safe and enforcing our nation's laws in an increasingly digital world depends on our ability to lawfully examine all materials entering the U.S." If the authorities think that that means looking into the contacts of a well-published journalist and then refusing him entry with no valid reason, that is a huge problem for freedom of the press in the U.S.
The incident has been criticized by advocates for press freedom as well as by other journalists.
Journalists don't get much braver or more talented than Ed Ou. What happened to him at the US border is shameful. https://t.co/4jCjUUqMaw

— Trevor Timm (@trevortimm) December 2, 2016
The way journalists are being treated at the US borders is truly alarming. This happened to photographer Ed Ou https://t.co/ZZi1bNNmB8

— Liz Sly (@LizSly) November 30, 2016
Does the United States believe in freedom of speech? Apparently not @CustomsBorder, which bars entry to accomplished photographer @EdOuphoto

— Neil MacFarquhar (@NeilMacFarquhar) November 30, 2016
The American Civil Liberties Union, ACLU, wrote a letter to Customs and Border Protection and the Department of Homeland Security, signed by attorney Hugh Handeyside, in which it called the detention and treatment "harassing and exceptionally intrusive." It said that border agents should have realized that Ou was a renowned journalist, who had often traveled to the U.S. as he has well-established professional connections with major news outlets such as Reuters, the Associated Press and the New York Times. The letter stated:
We believe that C.B.P. took advantage of Mr. Ou's application for admission to engage in an opportunistic fishing expedition for sensitive and confidential information that Mr. Ou had gathered through his news-gathering activities in Turkey, Iraq, Somalia and elsewhere.
Ou was on his way to cover the Standing Rock protests on behalf of the Canadian Broadcasting Corporation, which the agents were apparently aware of. But individual border officials should not have the power to affect what ends up in the media. The director of the Freedom of the Press Foundation, Trevor Timm, said that the practice of forcing journalists who have worked in the Middle East to give up their confidential sources just to get into a country puts the U.S. in a very bad light. "If this is requisite for journalists who are not U.S. citizens to enter the U.S., that is an enormous violation of press freedom," he said.
An important reminder to #journalists that your #data is not safe at the US Border https://t.co/oqEbH8Xz6q @ACLU @edouphoto pic.twitter.com/jvQiO113tN

— MuckRock (@MuckRock) December 1, 2016
For all intents and purposes, the Fourth Amendment does not apply when you're at the border. Walking on the street, a police officer likely can't go up to you and randomly search you without a warrant or arrest order. But in an airport or at a border control stop, agents can search you and your electronic devices without reason or permission from a judge. This is because of a loophole in the law that mentions bags and personal property, but was written in a time before most people had their entire private lives stored in a cellphone. A policy from 2009 says that the owner of a digital device needs to be present when agents perform a search, but that rule can be interpreted very loosely. According to the policy, agents can make copies of data, but they need to be erased within a week unless a crime is suspected or there is a probable cause to keep the data.
This incident raises a deeper question, about press freedom and Freedom of Speech in the U.S., as well as what the role of the CBP should be. As Hugh Handeyside from the ACLU said, "conditioning foreign journalists' admission to the United States on their willingness to agree to intrusive searches encourages similarly abusive treatment of American journalists in other countries." To treat journalists like this at borders will discourage them from reporting on important events, and stem the flow of information.