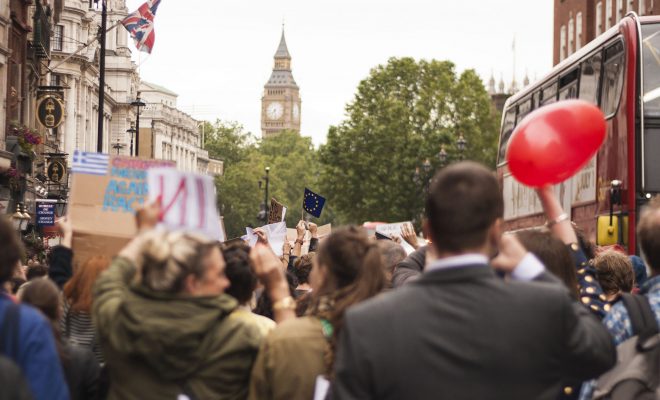 "Pro-EU protest" courtesy of Sam Greenhalgh; License: (CC BY 2.0)
World
Britain's Prime Minister Details Brexit Strategy in Long-Awaited Speech
By
|
Prime Minister Theresa May kicked off the Brexit proceedings in a speech on Tuesday that outlined Britain's future as an independent, globally engaged nation. After weeks of guessing at what May's opening salvo would look like, Tuesday's speech laid the groundwork for official negotiations between Britain and the European Union, which are set to begin in March. The entire withdrawal process is expected to take up to two years.
Speaking at the decadent Lancaster House in London, May spoke of a future where Britain is free from certain EU-related constraints while holding on to some privileges. For instance, she sees Britain as a global trading partner, outside the single market of the bloc, while also enjoying tariff-free trade with member states as part of the customs union.
"What I am proposing cannot mean remaining in the single market," May said, adding that she wants "a new and equal partnership–between an independent, self-governing, global Britain and our friends and allies in the EU." May specifically denounced a "half in, half out" approach to the future Britain-EU relationship. "We do not seek to adopt a model already enjoyed by other countries. We do not seek to hold on to bits of membership as we leave," she said.
But in suggesting Britain can sign trade deals with non-European countries, while also engaging in tariff-free trade with the 27 members of the bloc, May laid out an ambitious plan that might be rejected in negotiations with EU officials in March. In the European single market system, members freely exchange goods, services, and people. If Britain opts out of the single market–a so-called "hard Brexit"–it will forfeit fluid capital movement within the bloc, but would gain autonomy to deal with other actors outside of it.
Some of May's political opponents were dismayed by her insistence on leaving the single market. "She claimed people voted to leave the single market," said Tim Farron, head of the Liberal Democrats. "They didn't. She has made the choice to do massive damage to the British economy." He warned that in fleeing the single market, Britain could experience "higher prices, greater instability, and rising fuel costs."
The Brexit vote last June, when over 17 million Brits voted to leave the EU, came at a time of great concern about maintaining sovereignty in the face of increased immigration from the Middle East and Africa. But the result also caused British citizens living in other EU countries (1.2 million people), and citizens from other EU countries living in Britain (3.2 million people), to worry about their future.
May addressed those concerns in her speech. "We want to guarantee the rights of EU citizens who are already living in Britain, and the rights of British nationals in other member states, as early as we can," she said. May added that resolving the conflict is an "important priority," and she would like to find a solution with the EU immediately, to "give people the certainty they want straight away."