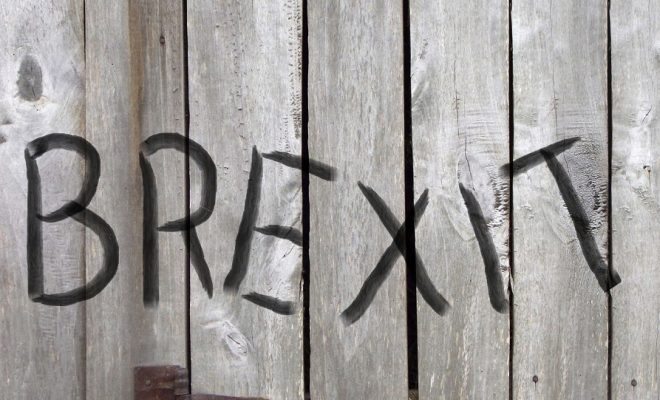 "Brexit door" courtesy of [mctjack via Flickr]
World
Brexit: What You Need to Know in the Aftermath of Britain's Historic Vote
By
|
Britain voted on Thursday to end its 43-year membership in the European Union. The withdrawal process will be long–it will most likely be two years until Britain is entirely sovereign–and fraught with difficult decisions for the nation's future, but the vote has sent tremors within the now-former EU member-state and beyond. Here is a briefing on Brexit and what it might mean for the future:
From EU Member to "See EU Later"
This is not the first time Britain has held a vote on whether it should remain in the EU or not. In 1975, a similar referendum was held, but obviously, the country voted to remain in the bloc. British ill will toward the EU has permeated the country for decades, but the stage was set for Thursday's vote in 2013 when Prime Minister David Cameron promised a Brexit referendum. With the promise, Cameron hoped to prove to an anti-European faction within his Conservative Party that most Britons disagreed with that sentiment.
This morning's front page: See EU later! pic.twitter.com/ntv8ofV3Kv

— Sun Politics (@SunPolitics) June 24, 2016
In February of this year, at a summit with other European leaders in Brussels, Cameron announced the date when the referendum would be held. "Leave" supporters gained steam in the weeks that followed, and in April formed an official campaign, with the UK Independence Party as its informal leader. The spring was filled with division and discord, as many young people supported EU membership while older Britons grew disillusioned with its stifling bureaucracy.
A Fractured United Kingdom
The UK might be leaving the EU, but not all of the Kingdom's countries support that move. Voter turnout was about 72 percent turnout throughout the entire UK, with 17.4 million people (or 52 percent of the total vote) on the Leave side and 16.1 million (48 percent) in the Remain camp. England saw the widest gap between those who favored Leave over Remain–53 percent to 47 percent respectively. Wales had similar figures, though its population is three million compared to England's 53 million.
In fact, those were the only two regions of the UK that favored leaving the bloc. Scotland voted heavily in favor of the Remain side, with 62 percent of Scots wishing for the UK to stay an EU member-state. Northern Ireland and London saw similar percentages in favor of remaining. The fissures within the UK are significant, because there may be more Leave referendums to come, and most likely Scotland will vote for a second time whether or not to secede from Britain and become its own sovereign nation.
Britain's Political Future
Soon after Thursday's results were announced, David Cameron announced his resignation after six years in office. Many who are disappointed with the referendum's result pin the blame on Cameron, who offered to bring the EU question to a referendum in the first place.
Speaking at 10 Downing Street, Cameron applauded the Leave campaign for a "spirited and passionate" effort and reiterated his view that the country would be better off as a part of the now 27-member bloc. He also said:
But the British people have made a very clear decision to take a different path, and as such I think the country requires fresh leadership to take it in this direction. I will do everything I can as prime minister to steady the ship over the coming weeks and months, but I do not think it would be right for me to try to be the captain that steers our country to its next destination.
So who will lead in his place? The next general election is scheduled for 2020, though that could be moved up due to Thursday's shocking result. A leading candidate to succeed Cameron is Boris Johnson, the former mayor of London and a prominent voice in the Leave campaign. Home Secretary Theresa May and Chancellor George Osborne are other leading candidates.
Financial Instability
Irrespective of the potential long-term effects on the British economy, Brexit hit U.S. and global financial markets hard in the early morning hours on Friday. The British pound took a steep dive as well. As of 10:30 am Friday morning, the Dow Jones fell by 402 points, a 2.2 percent drop, and the Nasdaq dropped by 2.8 percent. In total, $450 billion of U.S. market value was erased on Friday morning. Tremors from Brexit were also felt in East Asian markets, as Japan's Nikkei 225 index fell by more than seven percent and Hong Kong's Hang Seng Index declined by 4.7 percent.
The British pound fell 10 percent, dropping its U.S. dollar exchange rate from $1.50 to $1.36. That is a 31-year low. The euro dropped by 3.8 percent as well. And the long-term consequences are just as bleak, according to most economists. Uncertainty might plague financial markets in at least the short-term future. Trade with Europe and the rest of the world could be hit hard, and travel will likely be restricted. John Van Reenen, director of the Center for Economic Performance at the London School of Economics, told the New York Times in May:
The pro-Brexit argument that Britain will be free of lots of regulations, that there will be a bonfire of red tape that will cause us to grow rapidly and we'll strike lots of new trade deals as this buccaneering new England–there's just no credible scenario to any of that.
America's Response to Brexit
Predictably, American leaders weighed in during the hours that followed the Brexit results. Barack Obama said that America's relationship with the UK will not change, nor will its commitment to the EU, which "has done so much to promote stability, stimulate economic growth, and foster the spread of democratic values and ideals across the continent and beyond," he said. Vice President Joe Biden, who was in Ireland when the results came in, said the United States "fully respects" the decision, but "preferred a different outcome," adding, "And our relationship with Ireland and the European Union will remain the cornerstone of our global engagement."
Donald Trump, the presumptive Republican presidential nominee, took to Twitter to voice his support for the UK and its "brave & brilliant vote:"
Just arrived in Scotland. Place is going wild over the vote. They took their country back, just like we will take America back. No games!

— Donald J. Trump (@realDonaldTrump) June 24, 2016
Trump, whose movement in the United States has been compared to the Brexit Leave campaign, was in Turnery, Scotland to promote his new golf course. Hillary Clinton, the presumptive nominee on the Democrats' side, used the result as an opportunity to reiterate the importance of a solid leader come November. "This time of uncertainty only underscores the need for calm, steady, experienced leadership in the White House to protect Americans' pocketbooks and livelihoods, to support our friends and allies, to stand up to our adversaries, and to defend our interests," she said in a statement.