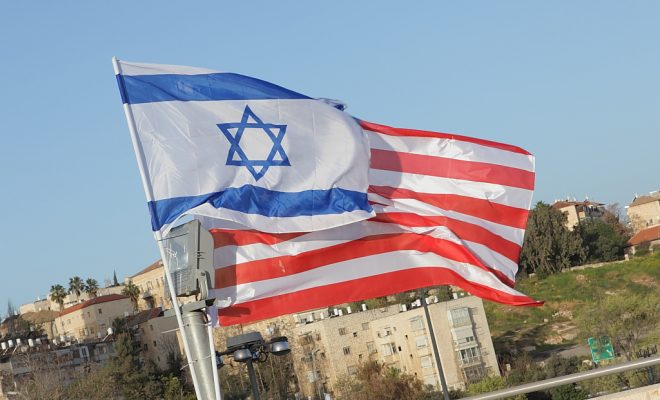 Image Courtesy of Ze'ev Barkan; License: (CC BY 2.0)
World
Is America's Relationship with Israel in Danger?
By
|
The first bad omen came earlier this week, when an American official reportedly told an Israeli official that the Western Wall in Jerusalem is "not your territory." Then, President Donald Trump, in a closed-door meeting at the White House with Russian officials, let slip classified intelligence regarding an Islamic State threat. The source of that intel: Israel, the most important ally for the U.S. in the Middle East.
As Trump embarks on a trip to the Jewish State–he arrives on Monday–it's worth asking whether or not America's relationship with Israel is in danger. Many top Israeli officials have already reaffirmed their country's commitment to its partnership with the U.S. But the gaffes keep coming, and the initial honeymoon between Trump and Israel's leading right-wing faction is slowly fading away.
When Trump was elected, Israeli Prime Minister Benjamin Netanyahu breathed a sigh of relief. Eight years of President Barack Obama–with his insistence on freezing Israeli settlement building in the West Bank, and Netanyahu's perception that Obama never truly grasped the Israeli-Palestinian conflict–drained the prime minister. Trump signaled a change. He was steadfast and vocal in his support for Israel. People close to him–including now-ambassador to Israel David Friedman–had life-long ties to Israel.
Pro-settler groups and lawmakers in Israel thought that Trump would provide a rubber stamp on the settlement project, which Palestinians (and many Israelis) argue is an impediment to peace. But not long after taking office, Trump told Netanyahu, during a visit to the White House, to "hold back on settlements for a bit." Unlike Obama, Trump has not explicitly condemned settlement building, but he has not been quite the unconditional supporter of settlements many hoped he would be.
Still, the partnership has remained strong. This week has certainly been a test, however. ABC reported that the Israeli source that picked up the ISIS threat that Trump relayed to the Russians might be compromised. Some former Israeli intelligence officials, including former heads of the Mossad, Israel's chief spy agency, said they might hesitate to share intelligence with the Trump Administration moving forward.
"I get the sense that there are certain questions indeed," former Israeli ambassador to the U.S. Michael Oren told the Associated Press. Israeli Defense Minister Avigdor Lieberman played down the episode, and reiterated Israel's partnership with the U.S.
"The security relations between Israel and its greatest ally, the United States, are deep, significant and unprecedented in their scope and their contribution to our strength. That is how it always was and how it always will be," he said.
All eyes will be on Trump when he visits Israel–part of the president's first overseas trip–next Monday. His trip will include visits to Israel's Holocaust memorial, Yad Veshem, and the Western Wall in Jerusalem's Old City. One of the holiest sites in Judaism, the Western Wall lies in east Jerusalem, which Israel captured in the 1967 Six-Day War, along with the Gaza Strip and the West Bank.
Earlier this week, while preparing for Trump's visit, an American aide told an Israeli aide the Western Wall was not a part of Israel, during a spat about Netanyahu's request to visit the holy site with Trump, a request that was ultimately rejected. Israel considers Jerusalem its eternal capital, and Palestinians insist its eastern half would be the capital of their future state. But while the status of Jerusalem has been contended for decades, Sean Spicer, the White House press secretary, recently brought some clarity to the debate.
During a Tuesday press conference, when asked about the American aide's comments in regard to the Western Wall, Spicer said the site is "clearly in Jerusalem," a fact all sides can agree on.