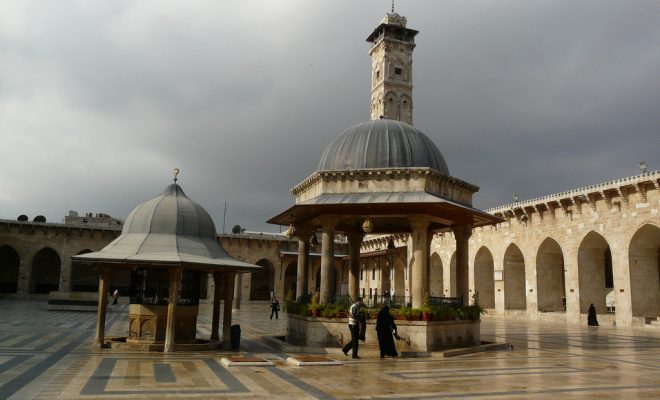 Image Courtesy of Varun Shiv Kapur; License: (CC BY 2.0)
World
Ceasefire in Aleppo Breaks Down: What's Happening on the Ground?
By
|
Aleppo, the once-vibrant World Heritage city in northwest Syria is in ruins, its residents trapped, its buildings folded over, its streets smoldering, littered with decaying bodies. A ceasefire was brokered by Russia and Turkey on Tuesday, aimed at allowing civilians and rebel fighters to be evacuated to the rebel-held city of Idlib, or to government-held territory in Aleppo. But by Wednesday afternoon, that small glimmer of hope was snuffed out as Turkish officials and activists on the ground reported more airstrikes and shelling.
Civilians who had gathered their belongings on Tuesday, hoping to pack into buses and flee the crumbling city, were stuck, with as many as 50,000 trapped in a small eastern pocket of Aleppo still held by rebel forces. It is unclear who exactly initiated or participated in Wednesday's attacks. Turkey's Foreign Minister said the Syrian regime and "some forces" were responsible, possibly alluding to Russia and Iran, two of Syrian President Bashar al-Assad's closest allies.
It is unclear how many residents were able to flee Aleppo before it was razed and absorbed by the government. Russia says at least 100,000 people left; the UN put the figure at 37,000. Bana, the seven-year-old girl who began tweeting from Aleppo in September, appears to be still trapped in the city with her mother. On Tuesday, Bana tweeted: "This is my last moment to either live or die." On Wednesday, Fatemah, Bana's mother, pleaded with the international community to intervene:
Dear world, there's intense bombing right now. Why are you silent? Why? Why? Why? Fear is killing me & my kids. – Fatemah #Aleppo

— Bana Alabed (@AlabedBana) December 14, 2016
Syrian forces entered the eastern, rebel-held flank of Aleppo on November 27, and quickly began gobbling up neighborhoods, and indiscriminately bombing apartments, buildings, and markets. The United Nations reports that hundreds of civilians have been killed since the government launched its offensive. When government forces announced their uncontested control of the entire city on Tuesday, a ceasefire was reached, and an evacuation plan, for rebels and civilians alike, was laid out.
Rebel fighters were to be bussed to rebel-held areas, either in Idlib to the west, or in rural, isolated areas throughout the country. Civilians had an option: to join the rebels or to be ushered into government hands. The evacuation process was set to begin before dawn on Wednesday morning, but buses were stalled and airstrikes and shelling eventually continued. The Syrian Observatory for Human Rights, a monitoring group with activists on the ground, said 6,000 civilians had been conscripted by the Syrian government, forced to join the army.
"I hope you can remember us."

This teacher in Aleppo shares a harrowing "last call" video as government forces take control of the city. pic.twitter.com/2CMzZplvav

— AJ+ (@ajplus) December 13, 2016
Others were simply executed. The UN reported that on Tuesday, Syrian troops and Iraqi militant groups killed 82 civilians, including at least 11 women and 13 children. Speaking to the UN Security Council on Tuesday, Secretary-General Ban Ki-moon said the international body's "immediate task is to do all we can to stop the carnage." He added: "Aleppo should represent the end of the quest for military victory, not the start of a broader military campaign in a country already ravaged beyond all recognition by five years of war."