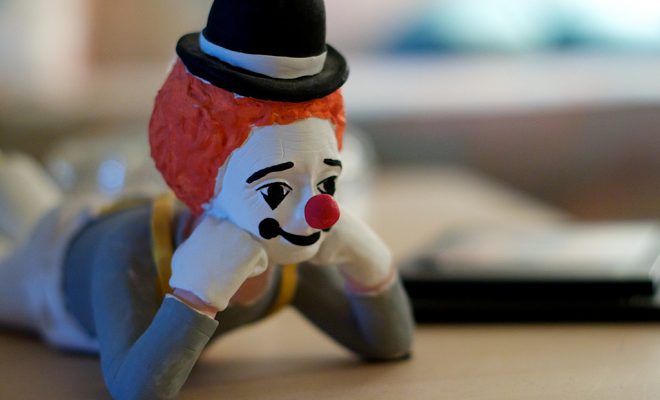 Image courtesy of [Alan Levine via Flickr]
Weird News
WTF is up With These Creepy Clowns in the South Carolina Woods?
By
|
Are you ready for a seriously creepy story? Something that could be straight out of "American Horror Story" or "Supernatural"? Well hold on to your seats, because I have a good one for you. Authorities in Greenville County, South Carolina are dealing with reports that clowns have been terrorizing the public and trying to lure children to the nearby woods. I think we all have one message for the people of Greenville, South Carolina:
To be fair, it's actually really unclear what's happening in Greenville. While there's been a lot of panic over these clowns, there have been no pictures or verified sightings by police officers. But the sightings that have been reported by passersby are disturbing enough on their own.
On August 21, an anonymous individual reported seeing a "suspicious character … dressed in circus clown attire and white face paint, enticing kids to follow him/her into the woods."
Oh don't worry…it gets worse.
Another woman told the police that her sons had "seen clowns in the woods whispering and making strange noises." When she went to investigate she saw flashing green lights and later the same family heard someone knocking and banging on their residence.
Other reports include neighborhood children who said that clowns tried to lure them into the woods offering cash. The same kids also said that they thought the clowns were living in a house in the woods. All said and done there have been six separate reports of these creepy clowns.
Police have told area locals to be vigilant, and at a press conference earlier this week the police chief stated: "The clowning around needs to stop. It's illegal, it's dangerous, it's inappropriate, it's creating community concern." I assume the pun was intended.
It's still very unclear what exactly is happening in Greenville, South Carolina, but it's not the first time that terrifying clowns have popped up in a random town. A few years ago, a town in California had a similar incident, but it turned out to essentially be an internet hoax. Only time will tell if the clowns in Greenville are the same kind of thing.