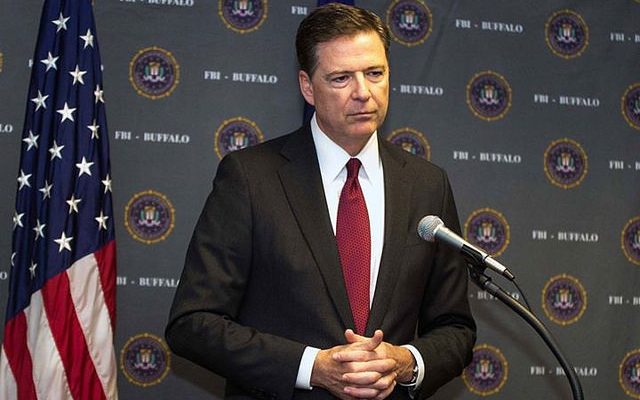 "James Comey" Courtesy of Rich Girard: License (CC BY-SA 2.0)
Weird News
Television Stations (and Bars) Prep for the Comey Hearing
By
|
As former FBI Director James Comey prepares to speak on Thursday before a Senate committee on recent events surrounding Russia, President Donald Trump, and the 2016 election, many are preparing their watch parties.
First off, not only will C-SPAN and PBS be broadcasting the feed but ABC, NBC, and CBS all plan to replace their normally scheduled daytime programing with a live feed of his testimony, according to CNN.
And some bars in the nation's capital are changing things up to show the testimony on their flat-screen televisions.
Shaw's Tavern plans to open at 9:30 a.m. Thursday morning in preparation for Comey's 10 a.m. testimony, according to The Washington Post. The bar is calling its viewing party a "Comey Hearing Covfefe," nicknamed after Trump's mysterious tweet last week.
They will be offering $5 vodka drinks along with $10 "FBI" sandwiches, according to CNN.
A bar fittingly named The Partisan will also be opening at 10 a.m. to offer food and beverages.
Other bars are running with the "covfefe" theme. Duffy's Irish Pub, normally a Washington Nationals bar, will tune into the testimony instead of baseball. The pub is offering a "Covfefe Cocktail," an orange drink with unknown ingredients.
Duffy's getting in on the Comey watch party action pic.twitter.com/HvDT35YMHR

— Tierney Sneed (@Tierney_Megan) June 6, 2017
"…It is like drinking Kool Aid but only a small group of people know what's in it," the advertisement says.
"Covfefe" is quite clearly another joke on the administration. In the aftermath of Trump's strange tweet, White House Press Secretary Sean Spicer explained that "the president and a small group of people know exactly what he meant," according to CNN.
Comey's testimony on Thursday has the potential to be an interesting morning in Washington so television networks and bars are looking to capitalize. Cheers to what may be a momentous day in American history.