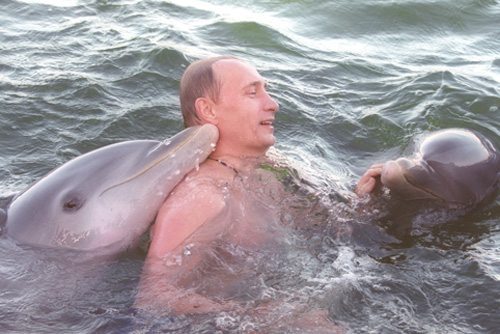 Image courtesy of [www.kremlin.ru via Wikimedia Commons]
Weird News
Is the Russian Military's Powerful New Weapon a Bunch of Dolphins?
By
|
In news that sounds like it would make for a great B-movie plot, the Russian Ministry of Defense is now in possession of some powerful new weapons: five dolphins, which it purchased this week for $26,000. But nobody seems to know for sure exactly how it plans to utilize the animals.
According to NBC News, the Russian Ministry of Defense purchased the mammals for approximately $5,200 each from Moscow's Utrish Dolphinarium, the winning bidder for the contract. The posting on the Russian website for state tenders set pretty high standards for the selected dolphins, specifying that they must have "…all teeth intact…[and no mucus from the blowhole]."
These aren't the first dolphins in the Russian military's possession; Russia gained a whole stock of them in 2014, after the annexation of Crimea. The aquarium that housed Ukraine's dolphins was part of the land that went to Russia, which became a point of contention between the two countries. According to The Guardian, "The Ukrainian military dolphin [program] was born out of a Soviet-era scheme that, like much of the Soviet army, fell into neglect in the 1990s."
The training center is one of two such facilities in the world–the other is in San Diego and belongs to the U.S. Navy. Last year, Russian officials told news agency RIA Novosti that the center was still in operation, indicating that Ukraine's combat dolphins were making a comeback (although Russia claims that they're not being used for military purposes).
Surprisingly, militarized dolphins are not a new concept. They were used during the Cold War by both the Soviets and the United States for various purposes, including the detection of mines and submarines. A 2002 History Channel documentary called "Inside the Soviet Military Machine: Dolphin Soldiers" looked into the experiments done on dolphins by the USSR (and sadly, many were indeed painful and cruel). 
Russia has continued to remain silent on its plan for the dolphins, but if past experience is any indication, the military could see them as tools in beefing up its defense forces. Although considering Putin's love for animals, it wouldn't be completely surprising if he just wanted some new pets.