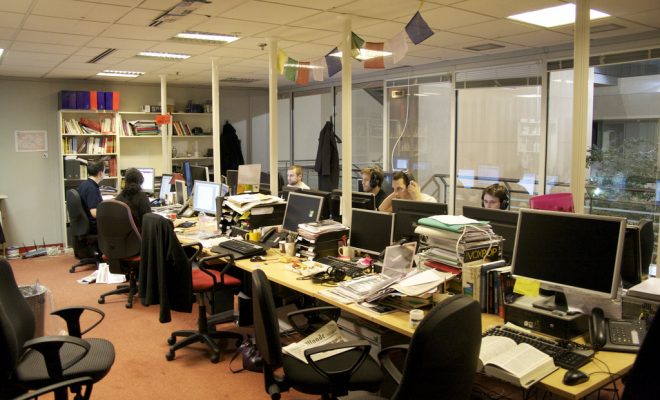 "5.31am CET - lepoint.fr newsroom" courtesy of [Gabriel Jorby via Flickr]
Weird News
Did Martin Shkreli Start a Massive Email Chain With 450 Reporters?
By
|
Did Martin Shkreli send a mass email to just over 450 journalists about the recent Wu-Tang Clan album on Friday? That's what reporters claim and they've taken to tweeting about the nightmarish experience all day. Whoever sent the email didn't BCC the recipients, and a reply-all nightmare quickly unfolded. The incident quickly started trending. Here's a recap:
Currently stuck on a reply-all chain started by Martin Shkreli, in case anyone is curious what hell looks like.

— Sam Adams (@SamuelAAdams) August 12, 2016
Dear god. @MartinShkreli sent a press release to 450+ journalists… and didn't bcc. The man is pure evil. pic.twitter.com/zS5LYSPAuc

— Kyle Jaeger (@kylejaeger) August 12, 2016
Often called "The most hated man in America," Shkreli, the 32-year-old former hedge-fund manager, became world famous after acquiring the American rights to distribute a life-saving drug that many AIDS patients rely on. He raised the price by more than 5,000 percent, sparking an international backlash.
The mass-email reportedly claimed Shkreli would let recipients listen to a track from the Wu-Tang Clan album "Once Upon a Time in Shaolin." Shkreli, maintaining his widely-hated persona, bought the sole copy of the album for $2 million in 2015. The email also said, "When I reach 200k followers on Twitter, I will drop another track."
Martin Shkreli recently made the news when he claimed that Hillary Clinton has Parkinson's disease, based only on his own observations.
Shkreli claims that he never sent the email, but if he did, it would be a pretty good publicity stunt as the story quickly trended online.
wasnt me https://t.co/8mtsCSfbXc

— Martin Shkreli (@MartinShkreli) August 12, 2016
So far, the stunt has brought about mixed reactions:
BEING ON THIS MARTIN SHKRELI EMAIL CHAIN HAS CURED MY DEPRESSION

— Ali Segel (@OnlineAlison) August 12, 2016
Can't get actual work emails to load on any device because of this stupid Martin Shkreli email chain I was oddly included on. #Help

— Lindsey Thiry (@LindseyThiry) August 12, 2016
Who knows what really happened, but this tweet sums up the situation many reporters find themselves in pretty well:
TFW you're on an email thread with 500 journalists, started by a fake Martin Shkreli, and everyone hits "reply all" pic.twitter.com/Yz5sdWHcsa

— Arielle Pardes (@pardesoteric) August 12, 2016