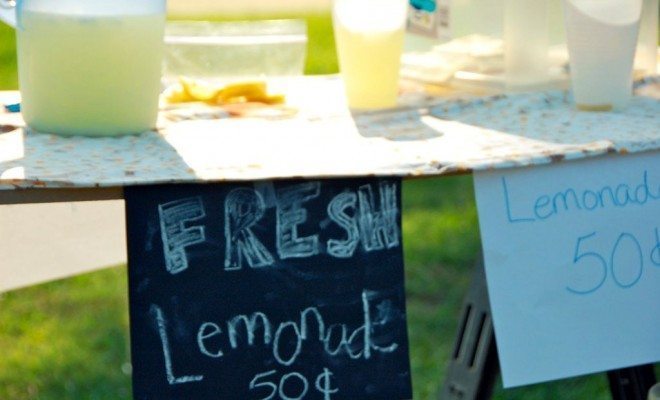 Courtesy of [eren {sea+prairie} via Flickr]
Weird News
Kids' Lemonade Stand Shut Down by Texas Police For a Ridiculous Reason
By
|
Two sisters from Overton, Texas are receiving an outpouring of support after local police shut down their roadside lemonade stand. (Ex-squeeze me?)
Zoey and Andria Green, 7 and 8 years old respectively, were trying to raise money to buy their dad a Father's Day present. They harnessed their entrepreneurial energies and decided to sell lemonade and kettle corn to drivers and passers-by until they earned enough money to take their dad to a nearby water park for his special day.
Overton Police Chief Clyde Carter told the girls they could not continue operating their stand. He said they needed to pay $150 for a peddler's permit, noting that they were also in violation of certain health codes since they prepared the kettle corn themselves.
(Just a reminder: these were kids…in a residential area in Eastern Texas…selling snacks).
Aren't there bigger issues that a Police Chief should be focusing on? Couldn't the fees or permit be waived at the discretion of the commanding officer? I guess Police Chief Carter never saw this video from 2010, wherein a county official in Oregon apologized to a little girl for the closure of her lemonade stand.
The Green sisters have since received tons of support from their community, and have discovered how to use one of America's most sacred tools: the loophole. As long as the girls "give away" their snacks and ask for donations, they are not breaking any laws–and do not require any permits.
Hundreds of East Texans have pledged their support and plan to visit the sisters' stand this Saturday. The girls were given (free) water park tickets to both Six Flags and Splash Kingdom after their story broke.
Mom Sandi Green Evans told reporters that additional donations collected on Saturday will be given to the Deana Rinehart and Felicia Roach Overton High School Sports Scholarship Fund.
Any police officers in the area won't be doling out tickets–they'll be directing traffic.