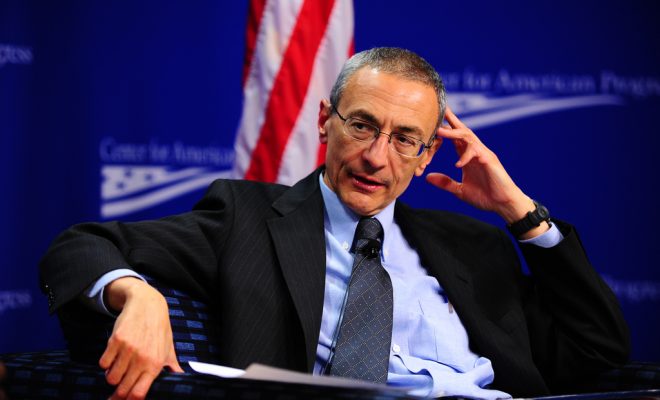 "John Podesta" courtesy of Center for American Progress; license: (CC BY-ND 2.0)
Weird News
The Internet Thinks Podesta is a Satanist After Leaked #SpiritCooking Email
By
|
On Friday afternoon the internet went totally wild after finding out about one more leaked email that supposedly proved that John Podesta, and therefore the whole Clinton clan, are Satanists.
#SpiritCooking: Podesta has band-aid on middle finger, likely from a cut, just like Marina Abramovic suggest for a "Spirit Dinner" pic.twitter.com/4Edf1bdLqC

— MicroTurkeyLeaks™ (@WDFx2EU7) November 4, 2016
The email in question was sent to John Podesta from his brother, asking if John could join him for a dinner at artist Marina Abramovic's place. He included the forwarded email from Abramovic, in which she described the dinner as a "Spirit Cooking". Because of that phrasing, right wing people online got all frenzied and started sharing their best conspiracy theories. The hashtag #SpiritCooking had over 500,000 tweets by late afternoon.
It all makes sense now. The whole family is involved in this satanic cult. pic.twitter.com/KVV7FbOV6w

— Neil Turner 🐸 (@NeilTurner_) November 4, 2016
The most disturbing thing about the whole #SpiritCooking Scandal is that NO DEMOCRATS are condemning it! Their silence speaks volumes!!!

— Joshua 🐸 (@joshuakassemi) November 4, 2016
Despite the influx of conspiracy theories, it doesn't seem likely that it was a real, blood-drinking orgy that took place. "Spirit Cooking with Essential Aphrodisiac Recipes" is the name of a cookbook that Abramovic created for a 1996 exhibition at the MoMA. It was accompanied by a piece of performance art in which she paints with blood and incorporates  a huge snake.
Wow. I just got to this video about #spiritcooking…skipping dinner this evening… https://t.co/Qahq8OGcav via @YouTube

— Hispanic4TrumpPence (@esgrimista73) November 4, 2016
The list of ingredients in the cookbook did call for "fresh breast milk with fresh sperm milk" to be consumed "on earthquake nights," but the dinner she invited the Podestas to was more a normal one, with real food. "It was just a normal dinner," she said to artnews.com on Friday afternoon. "There was no blood, no anything else. We just call things funny names, that's all." She told the website that John Podesta never made it to dinner and they have never met in real life. She called the right-wing attacks "absolutely outrageous and ridiculous."
At least as President, Hellary could call the Vatican hotline & get the Pope to perforrm an exorcism #SpiritCooking

— Deplorabe Majority (@trolling4tuna) November 4, 2016
Thankfully all of this insane election mudslinging will be over soon.