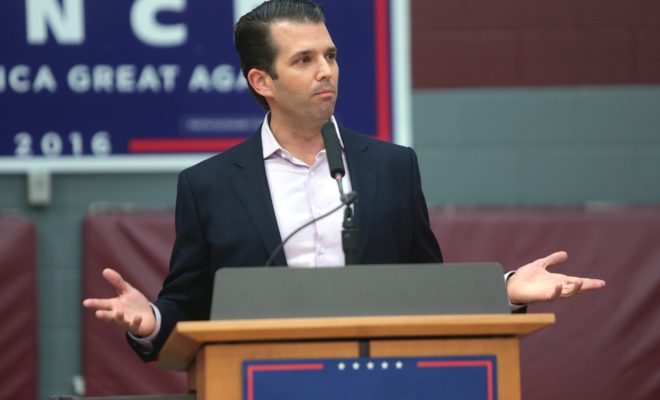 "Donald Trump, Jr." courtesy of Gage Skidmore; license: (CC BY-SA 2.0)
Politics
Emails Show Trump Jr. Sought Information From Russian Government During Campaign
By
|
On Tuesday, Donald Trump Jr. tweeted screenshots of his email conversations regarding efforts to set up a meeting with a "Russian government attorney" in June 2016. His tweets came after The New York Times told him that it was about to publish an article detailing the contents of the emails. Trump Jr. declined to comment and instead tweeted a brief statement along with the screenshots, saying he was posting them "in order to be totally transparent."
The emails show how Trump Jr. was approached by Rob Goldstone, a British publicist and former tabloid reporter, to set up a meeting. Goldstone represents the Russian pop star Emin Agalarov, the son of a Moscow real estate tycoon.
Here's my statement and the full email chain pic.twitter.com/x050r5n5LQ

— Donald Trump Jr. (@DonaldJTrumpJr) July 11, 2017
Agalarov's father, Aras, and Donald Trump cooperated back in 2013 to bring the Miss Universe contest to Russia. Their families befriended each other, and the younger Agalarov featured Donald Trump in one of his music videos. The Agalarov family also has close ties to Russian President Vladimir Putin.
In the email to Trump Jr., Goldstone wrote that Emin Agalarov said that his father had met the "Crown prosecutor of Russia" and claimed to have damaging information on Hillary Clinton, which could be useful for his father's presidential campaign. "This is obviously very high level and sensitive information but is part of Russia and its government's support for Mr. Trump," Goldstone wrote. "If it's what you say I love it especially later in the summer," was Trump Jr.'s reply.
After some back and forth, the meeting was set for June 9 in Trump Tower. Trump Jr. brought Paul Manafort, his father's campaign chairman at the time, and Jared Kushner, his brother-in-law who remains a close advisor to his father, to the meet with the Russian attorney. Goldstone even checked in at Trump Tower on Facebook before the meeting.
You have to love that Rob Goldstone wrote an email saying the Russian gov wants to help beat Hillary and then checked in for the meeting pic.twitter.com/Ajg1NWHciA

— Josh Schwerin (@JoshSchwerin) July 11, 2017
What exactly happened at the meeting remains unclear. Trump Jr. claimed that the attorney, Natalia Veselnitskaya, only wanted to talk about adoption policies. The day after, when The New York Times contacted him again to say it was about to publish a second article, he changed his account.
Trump Jr. then said he only knew that he was meeting a woman who claimed to have information that would be helpful to his father's campaign, but said he didn't know her name beforehand. He also said that she didn't have any valuable information after all.
A spokesperson for Vladimir Putin said that the Kremlin had no knowledge of the meeting and does he know Veselnitskaya.
On Tuesday morning, Veselnitskaya defended herself on NBC and said she never had any damaging information about Clinton. She denied having any ties to the Kremlin and said that the conversation with Trump Jr. was about the Magnitsky Act–a law that imposed sanctions on Russian officials who have committed human rights violations.
In retaliation for the law, the Kremlin stopped allowing the adoption of Russian children by American parents. Veselnitskaya is reportedly known for having well-connected clients and has aggressively lobbied against the Magnitsky Act in the past. According to Veselnitskaya, the Trump team may have wanted info on Clinton "so badly that they could only hear the thought that they wanted."
No matter what was said at the meeting, and whether or not the information was useful, the emails show that Donald Trump Jr. was fully aware that he was meeting with someone who he was told was a representative of the Russian government, which also wanted to help to get his father elected.