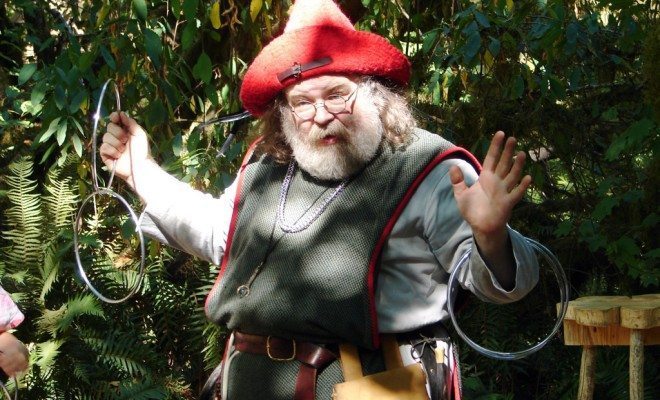 Image courtesy of [Matt via Flickr]
Weird News
House of Representatives to Decide if Magic is a National Treasure
By
|
Representative Pete Sessions (R-TX) introduced a resolution in the House of Representatives on Monday that asks Congress to "recognize magic as a rare and valuable art form and national treasure." To clarify, this is the House of Representatives, part of the United States Congress. That's not to be confused with the Magical Congress of the United States of America, which is unicameral, not to mention fictional.
The full text of the resolution, which is recommended reading for anyone who needs their heart warmed, uses some personal anecdotes to illustrate the power of magic. We're introduced to Rebecca Brown, a Portland, Oregon resident who was so inspired by a David Copperfield performance that she returned to her unfulfilled dream of dancing. The resolution argues that magic is a motivational force for many, and transcends culture as an art form. Ms. Brown's epiphany isn't the only mention of David Copperfield in the resolution. Out of thirty-three 'whereas' clauses arguing that the resolution be passed, eleven of them mention the magician or his charitable organization specifically. This resolution is one third David Copperfield, so it's reasonable to assume that Representative Sessions is a fan.
The resolution also makes mention of Wylie, Texas Mayor Eric Hogue, a man who discovered magic as a young child, and "continues to use those skills to teach elementary school students about the different roles and responsibilities of local government" While the description makes it seem like Hogue pulls a discretionary budget out of a hat to teach children all about the city council, videos show him performing fun and simple card tricks, and pulling a bouquet from some scarves.
The actual goal of the resolution is a bit vague: if passed, it would essentially state that the House of Representatives "supports efforts to make certain that magic is preserved, understood, and promulgated." While its intentions seem goodhearted, the bill, sponsored entirely by House Republicans, has some Democrat lawmakers confused:
Breaking: @HouseGOP believes in magic but not climate change. https://t.co/2uDhitDMnN

— Mark Takano (@RepMarkTakano) March 15, 2016
While nothing in the resolution indicates its sponsors believe that magic is real, Representative Takano (D-CA) illustrates that these legislators are willing to officially recognize magic as a valuable art form while being unwilling to acknowledge the impact of climate change. Representative Sessions has a record of staunch opposition to renewable energy investments and efforts to curb CO2 production. But just because larger issues loom does not mean that magic isn't important in its own right.
Having been referred to the House Oversight and Government Reform committee, the resolution has yet to be voted on–but magic aficionados around the country are holding out hope that their craft will be given recognition in Washington.