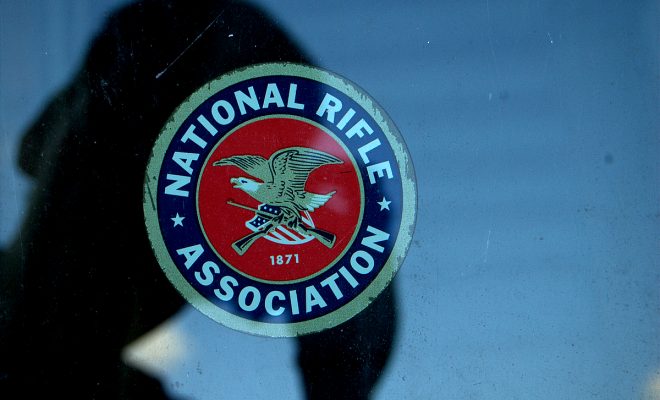 Image courtesy of Bart; License: (CC BY 2.0)
Politics
NRA Video Sparks Reactions from Both Supporters and Opponents
By
|
The National Rifle Association (NRA) released a video on Thursday imploring its followers to stock up on firearms and "fight back" against liberals. But many Americans were horrified by the inflammatory message, fearing that it could spark violence.
The lobbying group's video claims that liberal Americans are indoctrinating children, "assassinating [the] real news," and using Hollywood celebrities to further their narrative. Titled "The Violence of Lies," the video claims that when police stop the demonstrators from protesting they will be accused of police brutality.
The spot, which runs a bit over a minute, is narrated by conservative talk show host Dana Loesch, a NRA spokeswoman. Her chilling commentary is paired with haunting black and white stock footage of scenes across America, including various demonstrations.
"The only way we stop this, the only way we save our country, and our freedom, is to fight this violence of lies with the clenched fist of truth," Loesch says in the video.
The NRA video also claims there has been a surge in left-wing violence, which is false, according to Vox.
The NRA hasn't released any statement regarding the video, instead simply retweeting Fox News host Tucker Carlson's claims regarding his interview with Loesch. Loesch defended the ad by telling the New York Times:
I hardly think that condemning violence is inciting violence. I think the ad is very clear — there are excerpts from actual riots that are included in the ad, and that's exactly what I'm addressing.
The video is another example of the NRA's habit of using "apocalyptic, paranoid rhetoric" to advance the idea that people must defend their gun rights. One example cited by Vox is a 2013 op-ed by NRA vice president Wayne LaPierre claiming that if liberals succeed in passing gun control then a lawless America would follow.
Soon after the video went public a petition was organized asking Facebook to removed the video from its site.
"The video tries to create an 'us-vs-them' narrative and pit Americans against one another," the petition, which has over 25,000 signatures, said. "It paints liberals as liars and as violent, unruly protesters who law-abiding gun owners need protection from."
Liberals weren't alone in criticizing the NRA video–many gun owners were horrified at the provocative advertisement. Multiple Facebook users commented on the post with comments claiming they were cancelling their membership or condemning the veiled encouragement of violence against liberal demonstrators.
Another comment compared the video to George Orwell's "1984" and Ivan Pavlov's experiments with salivating dogs, according to Huffington Post.
But still other Facebook comments were grateful for the video "describing 100 percent exactly what happened," according to Time.
Multiple politicians denounced the NRA video on social media. Connecticut Senator Chris Murphy said he believes the NRA is telling followers to shoot people and that he recommends people cancel their membership. Virginia Lieutenant Governor Ralph Northam said he found the video "dangerous and wholly inappropriate."
Former television personality Montel Williams also chimed in on Twitter. Williams added his own comment to a tweet from Black Lives Matter activist Deray McKesson who noted that the response would surely be different if a minority made the video.
This ad doesn't speak for me as a proud, responsible gun owner. I find it disgusting. @Everytown @sandyhook https://t.co/1BDKXLHTym

— Montel Williams (@Montel_Williams) June 29, 2017
There was also criticism from terrorism experts. Ex-CIA intelligence analyst Cynthia Storer, now an adjunct professor at Johns Hopkins University, spent 20 years in the agency focusing on counterterrorism and al-Qaeda specifically, according to Newsweek. "The NRA is feeding an us vs them narrative of the kind that fuels all extremist movements," Storer tweeted. "Extremism sparks extremism in return. It's a vicious cycle and the world burns."
If the NRA was seeking publicity, then the group hit a home run. But if the organization wanted to start a dialogue or help fix a fractured America, this is a failure. It isn't the first politically hyperbolic video, and it won't be the last, but in this case the impact could be conflict and a widening of the gap in an already polarized American public.