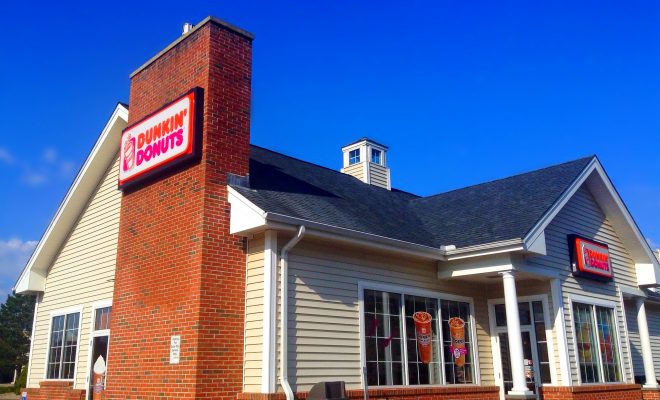 "Dunkin Donuts" courtesy of Mike Mozart; license: (CC BY 2.0)
Weird News
Good News for Bagel Lovers: Dunkin' Donuts Settles Fake Butter Lawsuit
By
|
Jan Polanik ordered bagels with butter at a Dunkin' Donuts in Massachusetts and couldn't believe it wasn't actually butter. So in 2013, he sued two Dunkin' franchise groups, which run more than 20 restaurants in Eastern and Central Massachusetts, claiming to represent all customers who "ordered a baked product, such as a bagel, with butter, but instead received margarine or butter substitute between June 24, 2012, and June 24, 2016."
Amazingly he won–according to an attorney for one of the two franchise groups, Michael Marino, a settlement has now been reached. Marino didn't reveal whether the company had paid up, but he did say that the 17 restaurants that he represents have made changes to how they manage the butter. Spokespeople for the other franchise group have not commented.
According to Dunkin' Donuts, butter can't be stored at room temperature for food safety reasons. It needs to be pretty soft to be spread smoothly onto the bagels, so the employees usually use margarine or some other butter substitute. But if the customer asks for it on the side, real butter comes in a package.
Dunkin' Donuts #Settles Lawsuit for Putting Fake Butter on Bagels https://t.co/1Xpe5BQr6V by @FortuneMagazine pic.twitter.com/wkgaiUbWyt

— Thornton Law Firm (@ThorntonFirm) April 3, 2017
However, the employees normally don't inform customers that they are receiving butter substitutes, which is what sparked a lawsuit from one particularly upset guest. Barbara Anthony, who leads the state Division of Consumer Affairs and Business Regulation, said in 2013, "This is an unfair practice and a misrepresentation–the consumer is in the dark."
Polanik's attorney Thomas Shapiro admitted that this is not a very pressing issue and that he thought it through a few times before deciding that bringing a lawsuit would actually make sense. "A lot of people prefer butter," he explained. He added that the bigger picture is that companies shouldn't promote that they're selling one thing and then give the customer something else. "If somebody goes in and makes a point to order butter for the bagel… they don't want margarine or some other kind of chemical substitute," he said.
Butter lovers will now be able to get real butter on their Dunkin' bagels, although details around the settlement or how the butter will be distributed have not yet been made public.