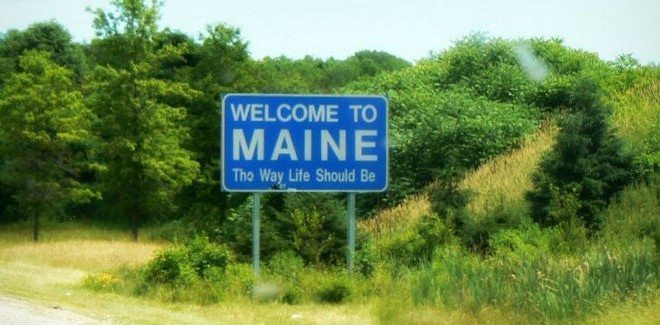 Image courtesy of [Nick Ares via Flickr]
Weird News
Dumbest Laws of the United States: Vermont, New Hampshire, & Maine
By
|
I hereby award a special prize to Vermont, the first state for which I could find no dumb laws backed up with proper citation. Good for you, Vermont. You are hereby deemed the state with the most common sense.
New Hampshire came close to earning the same honor as its neighbor–but not quite as it still has some of the dumbest laws in the country. The Granite State attempts to keep its residents and visitors as authentic as possible: it is illegal to check into a hotel under an assumed name. Also, no matter how delicious you may find seaweed, you cannot pick up the oceanic goody on the beach to munch on (or use for any purpose, for that matter).
In cemeteries in Claremont, many actions are illegal. No one under the age of ten may enter one at all, and no matter what your age, you may not get drunk or picnic among the graves.
Now for this post's main event: Maine. Did you like that little play on words, Main and Maine? Me too.
Perhaps the city of Biddeford had issues with airport travelers losing all of their money prior to flights, as that town went ahead and made it illegal to gamble in airports. I wonder if that is restricted to big-time gambling in proper casinos or if it includes playing poker with a $5 buy-in while waiting at your gate?
Biddeford also made it illegal to roller skate on the sidewalk. Maybe there were too many collisions between pedestrians and renegade roller skaters.
In Ellsworth, they seem to think their laws are above those at the federal level. There, if any part of the city ordinances are more stringent than federal laws, even though they may be in conflict with them, they will prevail.
Freeport, Maine bans the sale of mercury-containing thermometers, which I find totally logical considering the toxicity of the substance. However, most places these days don't even sell them anymore in the first place.
Moving on to the city of Waterboro, a place that really redefines being kept on a short leash. There, dog leashes may not be over eight feet long. Not sure how happy PETA would be about that one.
Deer in Wells, Maine better not count on humans to obtain sustenance, as it is illegal for anyone to feed one. Also, the city really wants to ensure respect for the dead, as advertisements may not be placed in cemeteries.
I've saved the best for last in my oh-so-humble opinion. In South Berwick, Maine, there is a long list of places where one may not park. Included on that list is a specific Dunkin Donuts. But… how will doughnut lovers everywhere get their fix?! Walking?!
Thank you for joining me for this week's post, tune in next time!